The dates for season 2 of the most hyped Indian series has finally out there for the audience. On the 9th of July the trailer was dropped across all the social media platforms. Based on Vikram Chandra's novel, the series was well appreciated for its cast and story in season one. There have been speculations about the release date of the series from year long. The production house and everyone involved in the series went through a lot of legal attention and this was one of the reasons why the series came out a bit late.
As the trailer has dropped in there are many things to explore and anticipate in the upcoming episodes. The character of Guruji has been given much of the attention. We can expect that the mystery of the 'Third Father' will be solved in this season. The buzz was the series is so high that even Delhi metro had posted a meme from one of the famous dialogues of the series. The "Balidan Dena Hoga" line has gone viral spread across all media pages in no time.
What will happen to Sartaj Singh?
Sartaj Singh is in the quest to correct his failed marriage while solving the mystery case. He is the one responsible for saving Mumbai. The clock is ticking and Sartaj has a lot to bear with. In the trailer we can find him triggered and agitated as someone who is facing dilemma. The perfect example of duty against self-interest is portrayed by the character. He is puzzled, tormented and confused with the only aim of saving Mumbai before the 25 days are over.
The Big Mystery of Giatonde's Visit to Kenya
With the purpose of finding what the bigger game is, Gaitonde has reached Kenya. In the trailer we can see how surprised and at the same time engrossed he is unveiling the truths of Guruji's world. What's more to observe and analyse is the fact that how the series is going to connect the two end dots. The lude and lascivious Gaitonde changes into a devoted disciple. There are many more mysteries packed in the plot line. It is ensured that every moment in the series will contribute in the most unexpected twist and turns.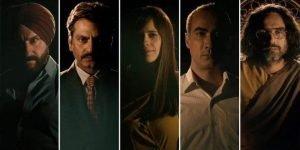 The New Faces
The new season is all set to stream on Netflix from the 15th of August. We can expect new characters to appear in this following episodes. From the trailer itself we are introduced to two new faces, Kalki Koechlin and Ranvir Shorey. These new faces have promised to add a lot more flavours and spices to the series. The direction of Anurag Kashyap and Neeraj Ghaywan is all set to leave the audience awestruck. Lets's wait till the Independence day to see how the story unfolds. The important question for now to ponder on is, "Kya ap Bhagwan mei Vishwas Rakhte hai?"