Sabarimala Darshan Online Booking 2019 is an online service from the Sabarimala Temple trust which helps devotees to obtain virtual online tickets to visit the temple and take the blessings of Lord Ayyappa. The auspicious Mandala Pooja Mahotsavam period for the Sabarimala season this year is between 16th of November 2019 to 27th December 2019.




This year, the Sabarimala Pilgrimage Management System provides the option of checking the availability status for Virtual Q on the desired date of pilgrimage. Prasadam orders can also be placed on the Sabarimala Darshan Online Booking website.
The Virtual Q services are provided free of cost to the devotees which comes in as a blessing in disguise for lakhs of devotees who will be visiting the temple in the upcoming days. With the implementation of the virtual queue system, the average time taken to reach the deity in the temple has reduced to 2 hours 40 minutes from a whopping 4 hours 30 minutes before.
How to do Sabarimala Darshan Online Booking 2019 2020?
Go to the official Sabarimala Pilgrim Management System portal – www.sabarimalaonline.org
Click on the 'Register' button. Enter the pilgrim details which includes photo of the pilgrim, name, age, address, contact number, e-mail ID and photo ID proof. Enter the E-mail ID and password for the account on Sabarimala PMS.
Navigate to the homepage. Click on Login button and enter the registered Email ID and password.
After a successful login, popup for adding pilgrims to the pilgrim list appears. Select 'Add Pilgrim' if you are traveling as a group. Once the pilgrim is added, pilgrim list shows the list of pilgrims added.

Click on the 'Virtual Q' option and select the desired date of pilgrimage.
The availability matrix appears for different time slots on the selected date.
Note:

The time slot is your actual darshan time. The actual time to reach Pamba is different and will be auto-generated in virtual queue entry card.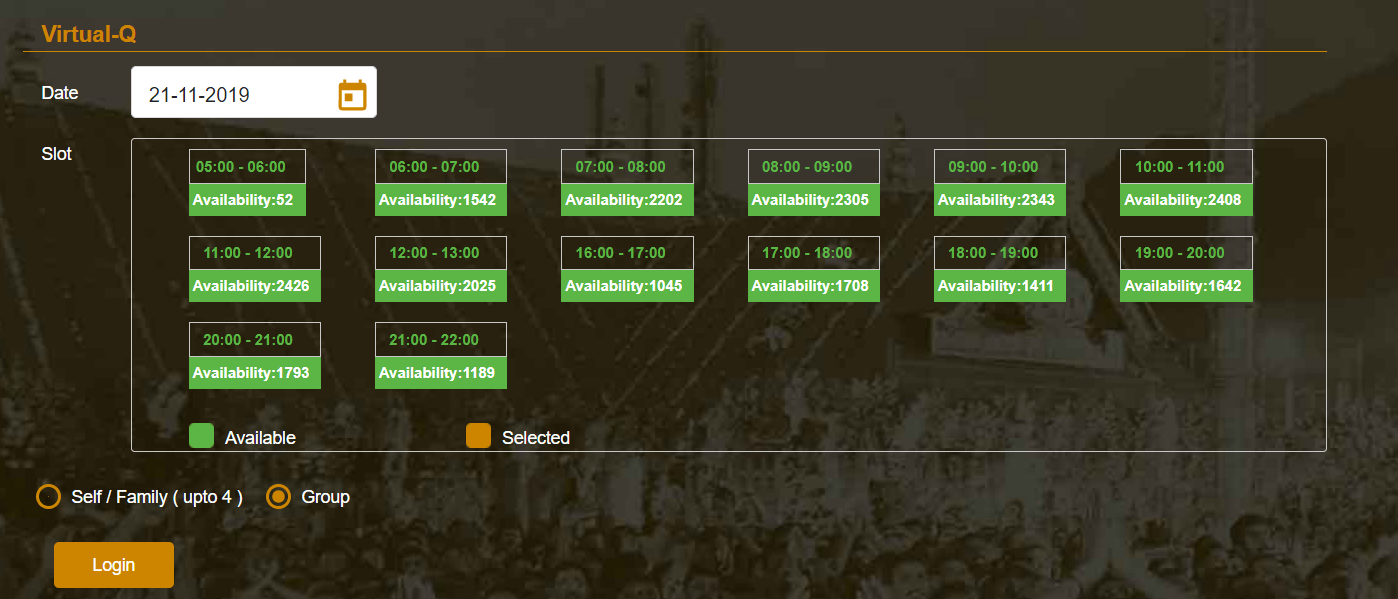 Select the desired darshan time slot and select the pilgrims from the pilgrim list.
In addition to this, prasadam like aravana, appam, abhishekam ghee, vibhuti, manjal and kumkum can also be ordered.
Click 'Proceed' in the confirmation wishlist.
In the payment confirmation page, verify the date, time slot, number of persons, prasadam quantity and amount. Click on 'Proceed to Print'.
The Sabarimala Virtual Q Booking Coupon is generated. This can be downloaded and kept in smartphones or a physical printout can be taken.
The e-ticket and photo identification card used for online registration will then be required to be produced at the verification counter, after which Virtual Queue entry cards will be provided.
Sabarimala Pilgrim Helpdesk Contact Number
Users can also call the number 7025800100 of the pilgrim helpdesk for more details.
Sabarimala Festival Darshan Calendar 2019
November
Mandala Pooja Mahotsavam
16-11-2019
27-12-2019
December
Mandala Pooja
27-12-2019
Makara Vilakku Mahotsavam
30-12-2019
21-01-2020
January 2019
Makara Vilakku
15-01-2020