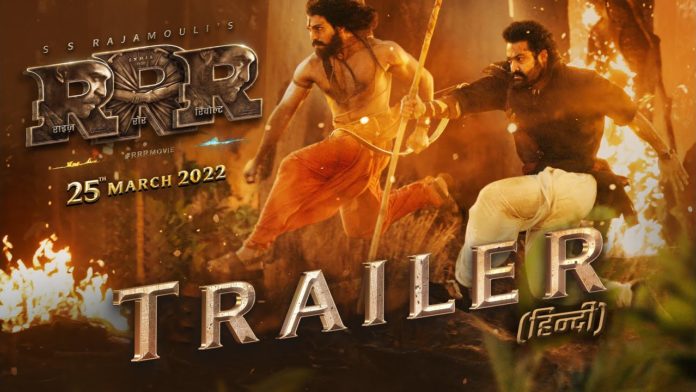 The release date of RRR movie on OTT platforms is June 3, 2022. The RRR drama will be released on two different streaming platforms: Netflix and Zee5. The Hindi-dubbed version is available on Netflix, while the Tamil, Telugu, and Malayalam versions are available on Zee5.
It is a telugu-language epic action drama film directed by S. S. Rajamouli that takes place in 1920. N.T. Rama Rao Jr., Ram Charan, Ajay Devgn, Alia Bhatt, Olivia Morris, Shriya Saran, and Ray Stevenson star in the film. Watch the trailer here  
RRR is an acronym for Rajamouli, Ram Charan, and Rama Rao. The film was released theatrically on March 25, 2022, and it broke the record for the largest opening-day collection by an Indian film. On its first day, the film grossed 240 crore (US$31 million) worldwide.
V. V. Danayya produced the film with the production company DVV Entertainments, and M. M. Keeravani directed the soundtrack. The costume designer was Rama Rajamouli. K. K. Senthil Kumar was the director of photography, and A. Sreekar Prasad was the film editor. V. Srinivas Mohan was in charge of the visual effects.
Plot
Komaram Bheem, the tribe's chief, heads out on a mission to rescue a minor tribal girl whom the British soldiers took away from her mother. Ram Charan who is a British police officer, agrees to take on the task of apprehending Bheem because he wants promotion. However, Ram and Bheem meet accidently and team together to save a child. They cultivate a friendship while hiding their true selves.
On Jenny's invitation, Bheem goes the governor's palace, where he secretly meets Malli and assures her of her rescue. While Bheem goes the governor's palace in order to secretly meet Malli and assure her of her rescue,  Ram captures Lachhu in terms of finding out where their boss is. Lachhu confiscates a common krait and tosses it towards Ram and  tells Ram that the bite will kill him in an hour if he does not have anti-venom, that only the Gonds are aware of.
Eventually, Ram makes his way to Bheem, who treats him. Bheem admits to Ram his plan, explaining his mission. After that, Bheem and his men attack the palace with a truck loaded with wild animals. He lets them loose on the guards of the palace. However, Ram obstructs him as a police officer. In a flashback, Ram's father, Venkata Ramaraju, revolted against the British and devoted his life.
Ram gets a promotion as a special officer for arresting Bheem and Bheem is sentenced to death. Ram, on the other hand, feels awful and decides to save Bheem and Malli. However, things do not go as planned, and misunderstandings arise.
However, a few months later, when Bheem hears that Ram has been sentenced to death, he also discovers the truth. Bheem frees Ram from the jail, and the two battle the British soldiers as a team. Eventually, Ram returns to his village and provides the promised weapons, while Bheem returns to his hamlet, reuniting Malli with her mother.