Series Name: The Big Show Show
Cast: Paul Wight, Alison Munn, Reylynn Caster
Director: Josh Bycel, Jason Berger
Release Date: 3rd April 2020
Official Streaming Partner: Netlfix
Season: 1
Language: English
Genre: Family Drama

Quasi-retired WWE Superstar Paul "Big Show" Wight has shifted gears and bagged the lead in the new family comedy drama where he plays plays a fictionalized version of himself as an ex-wrestler attempting to start the next phase of his life as stay-at-home dad and husband in Tampa.This show is a huge gamble since it could either go completely south or win accolades for it being all heart. The Big Show has proved to be amiable, glowing and someone who is able to carry the shenanigans of a sitcom on his shoulders. The show is warm and affectionate which families can enjoy in their drawing rooms.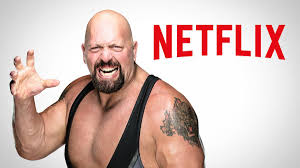 A few days ago with the much awaited season 4 of Money Heist being leaked on TamilRockers despite it being simultaneously released on Netflix as well. TamilRockers has yet again done it. The infamous website has recently leaked the WWE stars debut series The Big Show Show. The show has officially begun streaming on Netflix from 3rd April 2020. Within a few hours of the release, the entire series which includes all the episodes has been leaked illegally by the pirated website. Streaming and downloading copyrighted content through pirated websites is illegal. Viewers are able to watch and download The Big Show Show on Netflix post subscription which will include all the episodes as well.

The show was meant to cater to the younger audience. During such tough times people require entertainment and family time which will help get through this quarantine. The makers have delivered a fascinating message that showcases a fresh take on life as a retired wrestler and father goes head on to face life. The story is set in Tampa, Florida. The Big Show seems to be embedded with sweet and slow brooding drama which will bring out affection.