Into The Wild With Bear Grylls is one shows that will set your heart pumping filled with an adrenaline rush. Mixing this with the lethal combination of Rajinikanth only sets hearts racing faster. Rajinikanth who has been a part of Indian cinema for over four decades had never made his TV debut until now with his stint with the survivalist Bear Grylls. This would be the first episode of the new format series, Into The Wild With Bear Grylls. The episode was set to raise awareness on water conservation. Earlier Discovery had show with PM Narendra Modi for Man vs Wild. Rajinikanth explore Bandipur Tiger Reserve and National Park along with Grylls. He went on to thank Grylls for an adventure of a lifetime as he had never explored in such a different manner.
Rajinikanth- Bear Grylls Episode Leaked!
The TV debut of Rajinikanth was much anticipated and the debut show of Into The Wild With Bear Grylls was to be launched on Discovery Plus at 6:00 am on March 23rd followed by the television premiere at 8:00 p.m. Discovery Plus along with a stream exclusive videos including Behind The Scenes from the episode. But unfortunately prior to its release the episode was leaked online and available to watch. The viewers did not have to go through the process of downloading the app and the procedure that comes along with it.
Rajinikanth has over the years been over an array of TV shows. It was more like a buffet he never served from. But what was different this time was that the show Into The Wild has a unique concept. The whole environment offers adrenaline pumping action. The show also acts as platform for the greater good of society. The show offers inspiring real life entertainment. Rajinikanth says that he could not have asked for a better platform to make his TV debut after working in films for over four decades.
Views on the Show- Rajinikanth and Bear Grylls
Rajinikanth was excited about the concept as it would facilitate awareness on water conservation. Rajinikanth is a stalwart when it comes to environmental issues and has always believed in leading the way. His sole aim of doing the show was to create awareness and make people come forward and contribute towards conserving water. He strongly believes that this is a battle that ought to be fought at different levels; the government, community and individual. He found that Discovery has always been doing their bit to promote such causes and this would be a great platform to put forward this message of conserving water across every home across the country.
Bear Grylls was most enthusiastic about this episode considering he would be working with one of the most legendary names in Indian cinema. He was aware that the Thalaiva is a phenomenon on his own who had over the years captivated the audience with his stellar performances. He has made the audience fall in love with him onscreen as well as croon over him offscreen. Grylls was aware that Rajinikanth had tremendous energy and flair to be good at whatever he tried. He only required determination and the courage to face whatever came in their path across the beautiful wilds of India.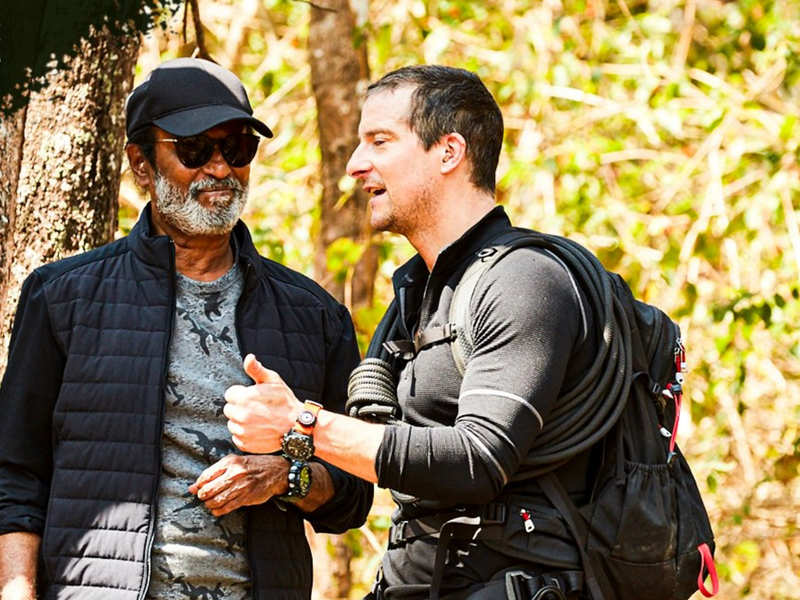 Where the episode was to be released?
With this episode Discovery channel has stepped into the OTT sphere with the launch of Discovery Plus. The episode which stars Superstar Rajinikanth on The Wild With Bear Grylls will initially be launched on the Discovery Plus app. It is said that Discovery Plus is the first app in India which will have real life entertainment being streamed. It will consist of over forty genres inclusive of food, lifestyle, science and adventure. It will be multilingual providing the options of Hindi, English, Tamil, Telugu, Malayalam, Kannada, Bengali and Marathi.
Superstar Rajinikanth is one of the most popular and loved actors across the nation. He has dominated over Tamil cinema for decades. This latest release is directed by AR Murgadoss titled Darbar, a cop action thriller.