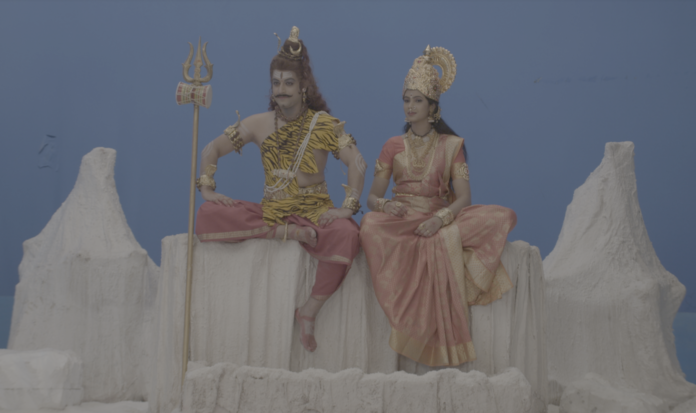 Zee Telugu's 'Nagabhairavi' has captivated audiences since its launch with spectacular VFX and the blossoming chemistry between Nagarjuna (Pawon) and Bhairavi (Yashmi Gowda). The story began with Bhairavi losing the magical amulet and moved forward with Pawon knowing his dream girl is Bhairavi. In the coming episodes, both Nagarjuna and Bhairavi are going to be surrounded by mystical powers. The new storyline won't be just about the leads of the show, but it will more about their struggle to know the truth of the temple and Nagavaram.
To further entertain the viewers from the Telugu states, the show will introduce some new characters that would eventually change the life of Nagarjuna and Bhairavi. The lead pair from Zee Telugu's popular show Suryakantham Prajwal PD & Anusha Hedge will be part of the show as Lord Shiva and Goddess Parvathi. Along with them, versatile actress Shruti Singampalli is going to don a character of a powerful witch. Kalyana Vaibogame fame Bhavana plays the role of soothsayer, and Attarintlo Akka Chellalu fame Madhu is also going to be part of the show as Vishwambara.
So how will Nagarjuna and Bhairavi deal with this new phase of their life where mystical acts and people surround them. Watch 'Nagabhairavi' know more.
Produced by Pawon and Kalki Raja under their banner 27 Pictures, the show airs at 7:30 pm only on Zee Telugu and Zee Telugu HD.
To enjoy the show, subscribe to Zee Telugu, available in the Zee Prime Pack at Rs. 20 per month
To ensure you do not miss out on your favorite Zee Telugu shows, choose the Zee Prime Pack that includes Zee Telugu and Zee Cinema alongside 7 other top channels of the Zee Network cater to the daily entertainment needs of your entire family at Rs. 20 per month only. For further information, contact your DTH or cable operator.
About Zee Telugu:
Zee Telugu is the Telugu General Entertainment Channel of Zee Entertainment Enterprises Ltd (ZEEL). Launched on 18th May 2005, Zee Telugu was the first entrant from Zee bouquet to enter South India. Zee Telugu offers various shows that cater to the entertainment preferences of over 75 million Telugu audiences across India every week. From fiction shows to reality shows and talk shows, the channel has multi-genre offerings and is widely accepted as the ultimate entertainment destination. Zee Telugu creates exceptional content by offering fiction shows with unique story-lines, state-of-the-art non-fiction shows & events with extraordinary formats, and acquires satellite right to some of the largest Tollywood movies that appeal to viewers across age groups.
With a balanced mix of content and programming options, Zee Telugu is one of the top Telugu GEC channels in Andhra Pradesh and Telangana. Zee Telugu is well connected across all cable and digital platforms and also available on ZEE5.