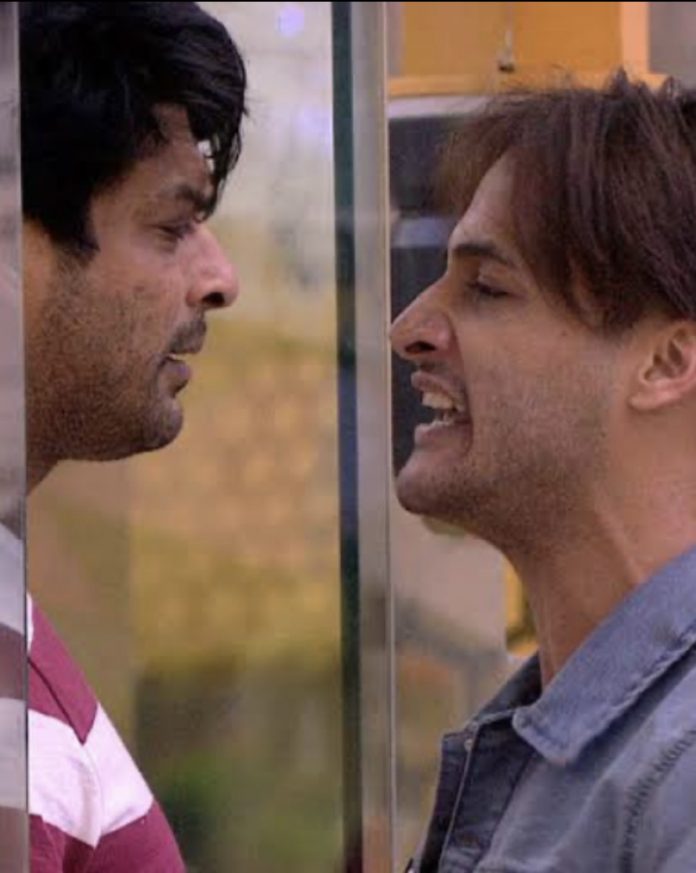 Sidharth Shukla and Asim Riaz are considered to be the powerhouse of Bigg Boss 13. Sidharth has proved multiple times that he can single handedly take the TRP to next level and his loyal fans have always stood with him. Asim Riaz was the wildcard and the dark horse and noone expected him to do this well. Initial week he was applauded for playing his task well and slowly people started liking him. Thanks to his friendship with Sidharth his fanbase were slowly building up. Asim even credited Sidharth for his popularity in the initial weeks and they both took care of each other's back when all other housemates were against them.




Every single week they were both nominated and everytime Sidharth came first and followed by Asim in voting trends. But during tasks Sidharth pushed Asim and the inital crack started. It is always said that the best friends make the worst enemies. The quote was well proved on Bigg Boss 13 after the once BFFs Sidharth Shukla and Asim Riaz turned into arch rivals. In fact, their frequent tiff has often won a lot of TRPs for the show and the audience got glued to the sea every time Sidharth and Asim locked horns.
host Salman Khan also stated that Asim has been missing from the show this week and isn't playing the game anymore. This didn't go down well with Asim's fans and they flooded the micro-blogging site Twitter with tweets in support of the model. In fact, they also started trending #MorePowerToYouAsim on Twitter.
While the fans were missing the nok-jhonk between them, a weekly caller on the show even stated that while Sidharth had taken over the show throughout the week, Asim was invisible ever since he stopped fighting with Sidharth. But things doesn't look like that in voting results last week as well in Twitter trends. The voting results last week proved that there was very little voting percentage between them.
Now Asim fans are trending #MorePowerToYouAsim which has almost corssed 1.5 million tweets. Here are some of their tweets supporting their star
https://twitter.com/TheKhbri/status/1216766695034978306?s=20
Attendance Time

2 Mins to Episode.

Retweet if you are Online and Trending #MorePowerToYouAsim pic.twitter.com/v8LkDmHWGJ

— Archana Gautam Fan Club🌹🇮🇳 (@archanafanclub2) January 13, 2020
#MorePowerToYouAsim Trending in India at no 4 with 1.58M + tweets!
Best contestant ever in @BiggBoss @ColorsTV among all the contestants from all the seasons! pic.twitter.com/nRr0ZkFz89

— Abhinash (@Abhinas87768310) January 13, 2020
#MorePowerToYouAsim
2M Coming Soon pic.twitter.com/mQ0DOCErJw

— Üsman Khan (Khattak ) (@usman_khank19) January 13, 2020
Do you know what Karma is?@ColorsTV targeting Hina in every episode no matter how well she performed, sending Celebs to show her down in her season.

And now calling her in every damn season as a Guest!

Script expire hoga to reality samne aa hi jayega#MorePowerToYouAsim

— khatira Amin (@amin_khatira) January 13, 2020
Sidharth fans have not left behind and they are trending #PowerofSid and it has crossed 1.2 Million tweets already. Here are some of their tweets supporting Sidharth Shukla
if iam Sid in FW

To Sana Father : uncle ji ,iam exhausted protecting ur daughter, i liked her only as friend, pls make her understand that i cant love her & tell her to concentrate on game.

lol sorry sid, its just prank
love u hero#PowerOfSid @sidharth_shukla #SidHearts

— Dharsini (@dharsin22431926) January 13, 2020
TREND ALERT #BiggBoss_Tak#PowerOfSid is TRENDING IN INDIA with 1.10 Million+ Tweet

No. 1 at INDIA
No. 38 at Worldwide

Retweet If you are Part of the Trend
Comments below the reason
(Best replies to be attached in YouTube Video)#BB13WithBiggBoss_Tak

— #BiggBoss_Tak👁 (@BiggBoss_Tak) January 13, 2020
I m giving chnce to 100 ppl

I m going to follow 100 sidhearts

Who FOLLOW ME then reply below with tagline#PowerOfSid

And jo abhi rply Karne Aaye vo ek dusre ko follow Kar dena

This will help sidheart to increase their tweet reach#Sidhearts#BB13#BiggBoss13 @ColorsTV

— Deeksha Pandey (@iamdeeksha03) January 13, 2020
Whatever he do, audience just enjoy watching him 😍😍😍 #PowerOfSid pic.twitter.com/VtwG3mI317

— Kirtika😊 (@kirtika_kk) January 13, 2020

https://twitter.com/Shailyjha1/status/1216750386301652992?s=20
Even celebrities have taken sides for their favourite stars while some of them support Sidharth Shukla and others are supporting Asim Riaz. Whom do you think will emerge on top, vote below
#PowerOfSid Vs #MorePowerToYouAsim, who will emerge victorious?