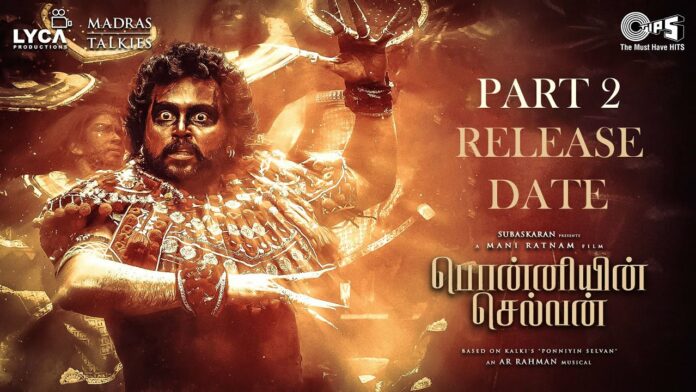 Mani Ratnam's cult classic period film, Ponniyin Selvan Part 1 about the Chola Dynasty opened to raving reviews in the box office this weekend. Ponniyin Selvan Part 1 revolves around Kalki's adaptation of the famous book about Ponniyin Selvan. Ponniyin Selvan part 1 satisfied the avid fans of the book as well as audience who witnessed the period film without any background knowledge. Ponniyin Selvan 2 release date is getting a curious buzz from the audience after the success of Ponniyin Selvan 1.
Also Read: Ponniyin Selvan Part 1 OTT Release Date, Streaming Partner Revealed
Ponniyin Selvan Part 2 Release Date
According to reports, Ponniyin Selvan 2 will release towards the end of September 2023. There are multiple reports about a possible earlier release of Ponniyin Selvan part 2 in April or June next year but it is not validated with any sources.
Ponniyin Selvan Part 2 Cast
The stellar cast of Ponniyin Selvan Part 1 including Aishwarya Rai, Trisha, Karthi, Prabhu, Prakash Raj, Jeyam Ravi and Vikram apart from other noted actors will continue in part 2. Ponniyin Selvan part 2 will witness Aishwarya Rai in a double action role continuing with her current role of Padmini and the other role of 'Oomai Rani' who saves Arunmozhi Chelvan from the capsized ship during the storm.
Ponniyin Selvan Part 1 Ending: What to Expect in Ponniyin Selvan Part 2?
For those who read the book of Ponniyin Selvan, there is a lot of promise twists and suspenses awaited in the second part of the film. Poonkuzhali's aunt Mandakini is a dumb queen who is a major character in the next part. Mandakini is the one who saves Arunmozhi multiple times. Eventually, Adhitha Karikalan reaches Kadambur fort. Mandakini becomes pregnant with Veerapandian while being rescued after the Pandya battle in the sea. Madhuranthakan and Padmini are offsprings of Veerapandian.
The plot will revolve around Padmini's revenge of those who killed her father Veerapandian, the Pandya dynasty king. Ultimately, Uthama Chozhan becomes the king after a twist of events.