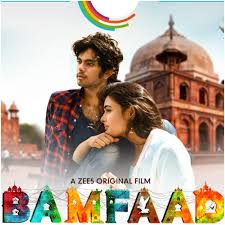 Bamfaad marks the debut of ace veteran actor Paresh Rawal's son Aditya Rawal in Bollywood. The film is all set to release as a Zee5 original film. The movie is directed by debutant filmmaker Ranjan Chandel. Bamfaad will also give to Bollywood, 'Arjun Reddy' fame Shalini Pandey. The film is set in Allahabad against a romantic volatile backdrop which will highlight an unusual yet raw and edgy love story. The director felt that releasing the film of a digital platform like Zee5 would give it the credit it truly deserves. Considering the current scenario with people under lockdown due to the pandemic, releasing Bamfaad on an OTT platform could work wonder for the film. Bamfaad is produced by JAR Pictures and Shaika Films. The film will release on April 10th 2020 on Zee5.




Bamfaad Trailer
The trailer hasn't been released as yet but in the poster the audience gets an insight into Aditya's character Nasir and Shalini's role as Neelam. The two debutantes are leaning on each other while two white doves are flying above them. The backdrop of a monument and an intense look from the two lovers speaks a lot. Aditya Rawal in a statement said that, "I am glad that I got the chance to be a part of such a thrilling film. Though the driving force of the film is the love story, it has many more layers to it. I want to make my own mark as an actor in the industry, and it feels great to begin my journey by playing Nasir Jamal, a character that fascinated me ever since I read the script. I hope that people watch the film in huge numbers on Zee5, and I am eager to hear their feedback."
Bamfaad Plot
Bamfaad is based in Allahabad. The story of Neelam and Nasir takes you across a series of inclidents that portray volatile love and raw energy between the two characters which will keep you wanting for more. Zee5 Premium announced the Zee5original film on social media by sharing a poster of Bamfaad and wrote, "Jahaan dil lagaana nahin asaan; wahan aashiqi hogi #Bamfaad! Introducing @aditya___rawal as Nasir Jamal and @shalzp as Neelam. Directed by @ranjanchandel. Premieres 10th April only on #ZEE5 #AZEE5Original
Cast
Bamfaad is a script that is truly heartfelt and to be brought to life onscreen is a craft on its own. The debutantes director Ranjan Chandel had earlier expressed what he felt about the film that will feature two debutants, Aditya Rawal as Nasir Jamal and Shalini Pandey as Neelam. The director said that Aditya and Shalini fit the bill for the characters which the makers have envisioned. There were many experienced actors who were reached out to for these roles but the raw energy that Aditya and Shalini bring with them make them more apt for the roles. Their refreshing chemistry is something to keep a lookout for. Apart from Aditya and Shalini, the film also stars Jatin Sama and Vijay Varma. Shalini felt that Neelam was a bold and courageous 24 year old but it was actually the vulnerability of the character that drove her towards the role. She wishes that she is able to get projects that constantly challenge her which will make her learn alot in the process.
How to watch Bamfaad?
Bamfaad is a Zee5 original film which will be available on Zee5 only. To watch Bamfaad you have to be a subscribed member of Zee5. Bamfaad will be streaming from April 10th 2020. To watch the film follow the next few steps.
Download the Zee5 app through Appstore of Playstore
Login to your account or subscribe to Zee5
Search for Bamfaad which will be streaming from 10th April 2020 onwards