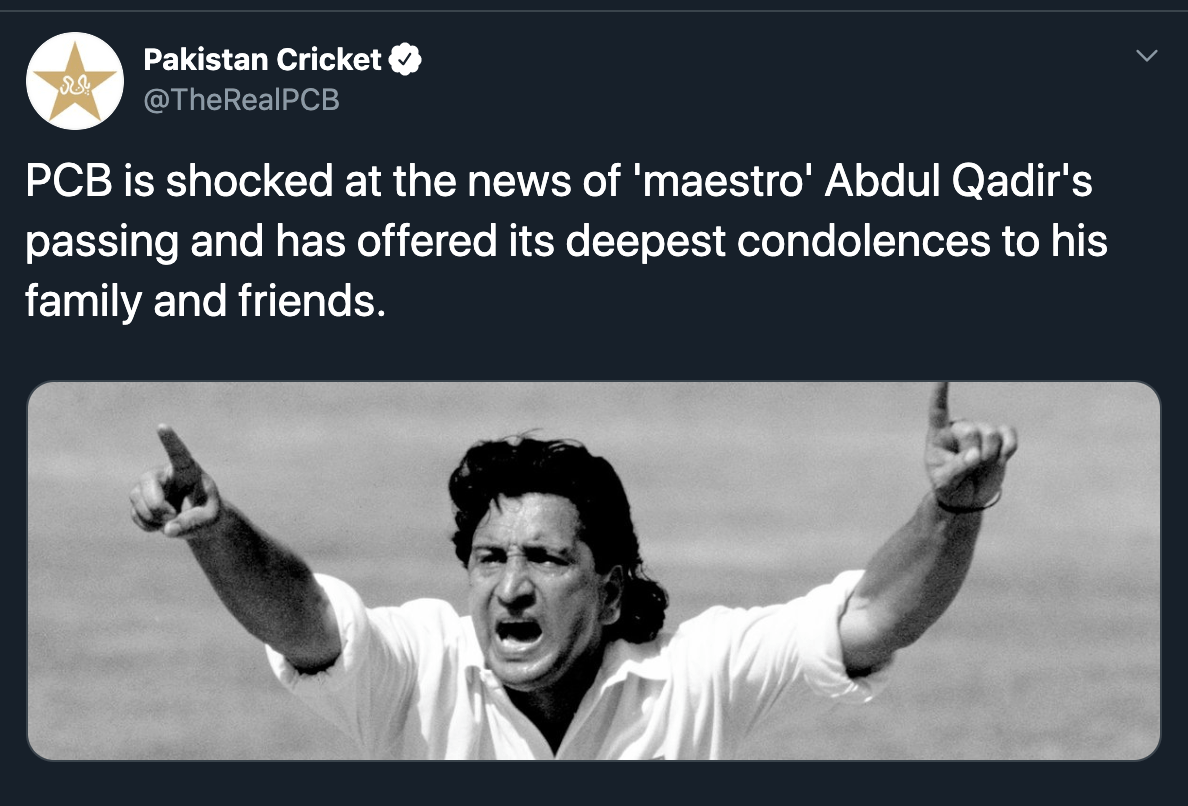 The cricketing world is shocked by the sudden demise of Pakistan spin maestro Abdul Qadir at the age of 63. He passed away due to cardiac arrest and the entire cricket world is mourning for him, Legends like Wasim Akram, Waqar Younis have tweeted about his loss.




They called him the magician for many reasons but when he looked me in the eyes & told me I was going to play for Pakistan for the next 20 years, I believed him.A Magician, absolutely. A leg spinner & a trailblazer of his time. You will be missed Abdul Qadir but never forgotten

— Wasim Akram (@wasimakramlive) September 6, 2019
"Gone Too Soon" Cricket has lost a Legend today Abdul Qadir"Inalil a wa ina alha rajaoon" Very upsetting and disturbing news.He was a very kind and a humble man.May ALLAH grant him highest place in Jannat and give his family a sabr in this difficult time. #RIP Qadir Bhai? pic.twitter.com/TBdGVOaS1R

— Waqar Younis (@waqyounis99) September 6, 2019
Abdul Qadir's son Salman Qadir confirmed the demise of the iconic cricketer. The former cricketer was moved to Services Hospital after the heart attack but he could not survive as per Dawn. "My father never had a heart problem so it was sudden and shocking that he suffered a severe attack and could not survive," Salman told AFP.
Qadir, who would have turned 64 on September 15, was one of favourites of former captain Imran Khan — now Pakistan's prime minister. "I am sad to hear about Qadir's death," Khan said in a message. "With his death I have lost a close friend and a team-mate and that's hurtful.
Legendary Australian leg-spinner Shane Warne — the second highest Test wicket taker with 708 (only behind Sri Lanka's Muttiah Muralitharan's 800) — was also a big fan of Qadir. Commentating for Sky Sports during the fourth Ashes Test between England and Australia, Warne said Qadir was a "brilliant, brilliant bowler."
"I had the opportunity to meet him in 1994 on my first tour to Pakistan," the Australian was quoted as saying by Reuters. "I think a lot of people who bowled leg-spin, like I did, he was the guy who we looked up to in the eighties. He was the main leg-spinner in that era. "He was a terrific bowler who bamboozled a lot of batsmen. His record is a terrific one."
Cricketer Kamran Akmal, too confirmed the demise of Abdul Qadir, according Geo TV.