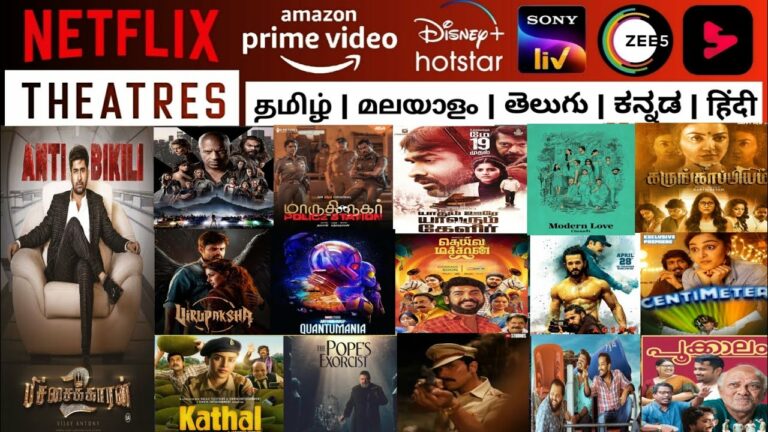 In the world of entertainment, the trend of releasing movies in various languages, including Tamil, on OTT platforms is gaining momentum. This week, several exciting films are set to hit the OTT screens. Let's delve into the details of these upcoming releases.
First up, we have 'Theiva Machan,' a film starring Vimal and Pandiyarajan, which made its theatrical debut on April 21st. Now, you can catch this movie on Aha OTT. The laughter-filled journey awaits you!
If you're a fan of web series, Amazon Prime has got you covered with 'Modern Love Chennai.' This series showcases short films created by seven talented individuals, including renowned names like Bharathiraja, Balaji Sakthivel, Thiagarajan Kumararaja, and Raju Murugan.
Yogi Babu enthusiasts, get ready for 'Centimeter,' a film directed by Santhosh Shivan, exclusively releasing on Tendkota OTT. Brace yourself for a delightful performance by your favorite star!
Another exciting option on Aha OTT is 'Maruthi Nagar Police Station,' featuring Aarav and Varalakshmi Sarathkumar. Prepare to be thrilled by their captivating on-screen presence.
Moving on to other languages, the Malayalam film 'Pookakalam' will be gracing the screens of Hotstar OTT. Immerse yourself in the essence of this cinematic creation.
Netflix has a trio of diverse offerings for movie enthusiasts. First up is the Telugu movie 'Viroopaksa,' followed by the Hindi film 'Katha,' and lastly, the Malayalam movie 'Ayalvashi.' Take your pick and enjoy the visual storytelling these films have to offer.
For those seeking captivating content on SonyLive OTT, make sure to check out 'Kadina Kadoramee Andakadaham,' a Malayalam film that promises an enthralling experience.
Last but not least, Netflix OTT presents two English-language films for the enthusiasts of this genre: 'Missing' and 'The Sun.' Sit back, relax, and indulge in these gripping cinematic journeys.
That wraps up this week's lineup of OTT releases. Stay tuned for more entertainment news and exciting releases in the coming weeks!