Coimbatore and Tiruppur districts in Tamil Nadu are most affected by the 2nd wave of coronavirus infection. Many have accused the Tamil Nadu government of discriminating in the district.
During the last AIADMK regime, the rulers in all the districts acted better against the corona infection. Opposition parties, including the AIADMK and BJP, have accused the now-defunct DMK government of carrying out anti-COVID 19 measures in polling stations and the non-voting districts. In this context, Chief Minister MK Stalin today toured Tirupur and Coimbatore districts. MK Stalin is said to be there to visit preventive measures and provide appropriate advice.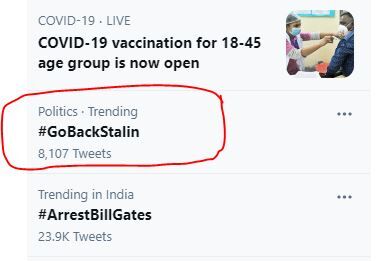 Meanwhile, the hashtag #GoBackStalin has been trending on Twitter in India to protest MK Stalin's visit to Coimbatore and Tirupur districts. This trend has come as a shock to the DMK leadership.