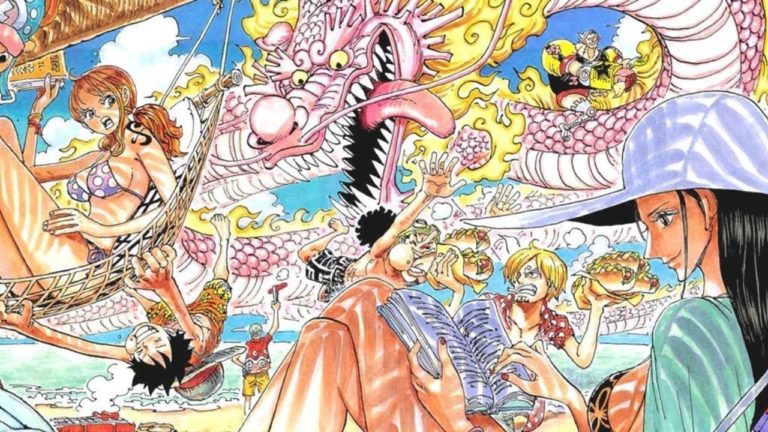 One piece is among the most well-known Japanese manga series which has published over a 1000 chapters due to the popularity and is going to be publish it's 1048 Chapter in a few days. The series is written and illustrated by Eiichiro Oda. It is published in Weekly Shonen Jump Magazine where a new chapter is published each Sunday.
What is One Piece about?
The series revolves around Monkey D. Luffy, a young man made of rubber, whom, inspired by his childhood idol, the powerful pirate "Red Haired" Shanks, sets off on a journey from the East Blue Sea to find the mythical treasure, the One Piece, and proclaim himself the King of the Pirates.
Recap of One Piece 1047
Momonosuke is experiencing difficulty creating the flame clouds that Yamato urged him to create. Momonosuke keeps on trying to move the island away from the Flower Capital. On the roof of the Skull Dome Luffy strikes the lightning towards Kaido with his Gum-Gum Lightning attack, but Kaido leaps out of the way. Thus, the fight of  Luffy against Kaido continues.
The question as to whether Luffy will be able to defeat Kaido in One Piece 1048 has piqued the curiosity of the viewers.
What to expect from One Piece 1048?
According to ODA, Luffy would not be able to defeat Kaido in One Piece Chapter 1048. To become King of the Pirates, Luffy must defeat the most powerful pirate of all time: Kaido. According to sources, Luffy will beat Kaido, but not due to the punch. It is apparent that Luffy's punch is incapable of destroying such a monster. It would be unsatisfactory if Kaido was defeated with the punch. Although we may predict that Kaido will be struck down for a long period. However, the attack will not be enough to destroy him, and we may thus anticipate Kiado to remain in One Piece 1048. Kaido might appear at some point in the future.
One Piece 1048: Release Date and Time
Japan on May 6, 2022, and worldwide on Sunday, May 8, 2022. The chapter will be available for reading on Viz Media and Manga Plus. The official English translations of the latest chapter will be published by the following day and time in the countries mentioned below:
Pacific Time: 9 AM on Sunday
Central Time: 11 AM on Sunday
Eastern Time: Noon on Sunday
British Time: 5 PM on Sunday
The raw scans are generally released on Thursday or Friday. The spoilers and raw scans will go live on the internet on Tuesday, May 3rd, 2022 at 11 p.m. UTC.