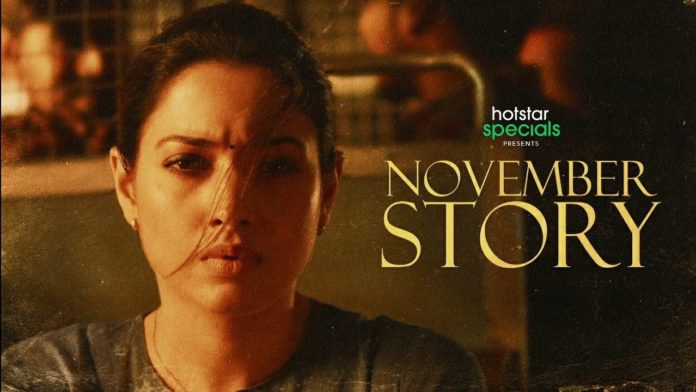 November Story is one of the most expected web series in May 2021, and fans well received the trailer. It was touted to be a crime-thriller with lots of twists and turns. November Story stars Tamannah Bhatia in the lead role, and she is making her web series debut with this show. It premiered on Disney+ Hotstar on 20th May 2021 and has received some rave reviews from netizens. Indhra Subramanian directs November Story, and this is her debut as a director.
November Story Plot
The plot revolves around a murder that happens in the house owned by Tamannah's father. The police initially suspect Tamannah's father as the murderer, and Tamannah's efforts to save her father from this form the story's crux.
November Story's trailer was well received by the audience, which has increased the expectation of this show, and the series surpassed the expectation created by the trailer. Many intense, thrilling elements were not revealed in the trailer, keeping the viewers hooked to these series. There are only seven episodes that have a lot of twists and turns. This is a feast for all crime thrillers. The audience well appreciates the performances of Tamannah, Pasupathi, GM Kumar, and Arul Das. The characters played by these actors will be well remembered even after the end of this series.
Saran's background score and Charan's editing have taken this series to international standards. Charan edited the goosebump moments. The production design is perfect, and the mortuary scene is one of those areas where the production value has lived up to the expectations.
The system hacking scenes shown in the web series was a letdown as it dragged for more than an episode and a half. This was considered to be a filler in this intense series.
November Story Review
This series is a must-watch for May 2021, and with lockdown still in effect, the viewers can enjoy this series of 7-episodes on Disney+ Hotstar.
TheNewsCrunch Rating: 7.5/10 for November Story.