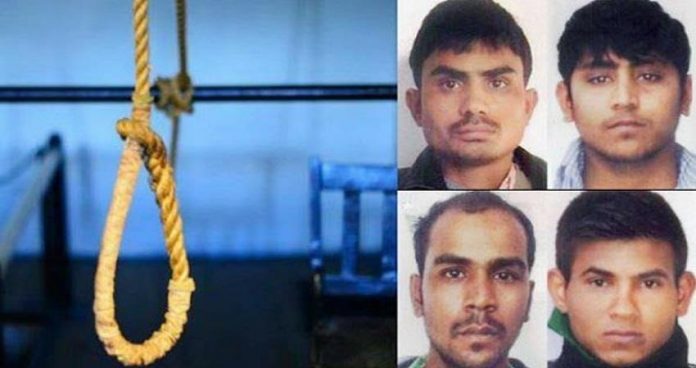 Delhi's Patiala House Court has issued a death warrant for the four convicts of the Nirbhaya Gangrape. These four accused will be hanged at 7 am on January 22. Nirbhaya's family is relieved by this news. Nirbhaya's mother Asha Devi said, "My daughter has got justice." The women of the country will get strength by getting the sentence of these four convicts. This decision will increase people's confidence in the judicial system. '
Let me tell you, the Judge of Patiala House Court spoke to the four convicts through video conferencing. During this time the media or any other person was not allowed inside. During the hearing, Nirbhaya's mother and convict Mukesh's mother wept in court. Significantly, in the Nirbhaya case, the four convicts Akshay, Mukesh, Vinay and Pawan have already been sentenced to death.
According to ABP News, the Tihar Jail Administration will begin the execution of the hanging from Wednesday. The four convicts may soon be sent to the hanging house of jail number three. Presently, after the court order, the jail administration has increased surveillance on the four.
Delhi Women's Commission chairperson Swati Maliwal tweeted "Satyamev Jayate." She said, "I welcome this decision. This is the victory of all the Nirbhaya of the country. I salute Nirbhaya's parents who fought so long. Why did it take seven years to punish these people? Can it not reduce its time? '
"22 जनवरी 2020"

7 साल का ये लंबा सफर आंखों के सामने आ गया।
खुशी से आंखें नम हैं।

उस माँ को सलाम जिसने इतनी लंबी लड़ाई लड़ी है।
इस देश की सभी निर्भयाओं की जीत है, इस देश की जीत है। अब वक्त है देश के हर बलात्कारी को फांसी की सज़ा दी जाए और एक कड़ा संदेश दिया जाए।#Nirbhaya

— Swati Maliwal (@SwatiJaiHind) January 7, 2020
Finally! India's daughter gets JUSTICE! #Nirbhaya

— Gautam Gambhir (@GautamGambhir) January 7, 2020
#Nirbhaya को मिला न्याय। दिल्ली की एक अदालत का 4 दोषियों को फांसी देने का फैसला महिलाओं को सशक्त करेगा और न्यायपालिका पर लोगों के विश्वास को मजबूत करेगा।#nirbhayaverdict

— Prakash Javadekar (@PrakashJavdekar) January 7, 2020