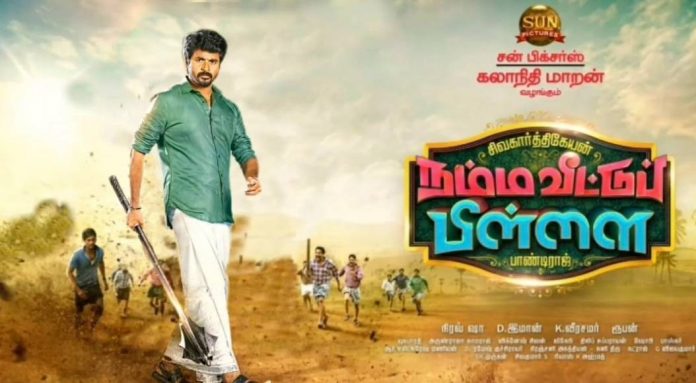 Namma Veettu Pillai is the latest Sivakarthikeyan movie which is releasing today September 27, 2019 during holiday seasons. This movie is touted as a clean family entertainer and that's what it has delivered. This movie is directed by "Pasanga" Pandiaraj who is known for making entertaining movies with great family values. His Kadaikutty Singam in 2018 is one of the highest grossers of the year and it was celebrated well by audience of all segments. We expect the same results for "Namma Veettu Pillai" movie as it's an out and out family entertainer with good dose of comedy from Soori-Sivakarthikeyan combo and sentiments that would make us cry.




Namma Veettu Pillai First Half Review
NVP starts with usual first half of Pandiraj style with character introduction Sivakarthikeyan as Arumpon, Aishwarya Rajesh as Thulasi, Anu Emmanuel as Maangani, Bharathiraja as Arulmozhi and Soori as Paraman. Aishwarya Rajesh as Thulasi has a lot of scope to perform and she does it with ease. It shows her versatility and how she can carry a character well on her shoulders with Sivakarthikeyan on other side. Aishwarya Rajesh role Sivakarthikeyan's sister will be one of the most talked about role this year as the duo along with Soori is providing a laugh riot in first half. Also the marriage sequence of Aishwarya Rajesh brings tears in our eyes and we see the sentimental brother-sister bonding highlighted in an interesting way. The love sequences reminds us of other Sivakarthikeyan movie but it has freshness of Pandiraj and Soori-Siva combo reminds us of good old days of their earlier movies like Rajini Murugan and Varuthapadatha Vaalibar Sangam.
Namma Veettu Pillai Second Half Review
Second half starting was a bit let down but story picks up pace, we see a lot of sentimental scenes in the second half between Siva and Aishwarya Rajesh, it would bring tears among audience yet the audience would not feel heavy. Yogi Babu's comedy track is another highlight of the movie and sentiment-comedy portions are well balanced. The dialogues of second half are realistic and Siva performs them with ease shows how much of an versatile actor he has become. Barathiraja as Siva's father delivers a powerful performance and will be remembered in his role. His pair Anu Emmanuel doesn't have a lot of scope in this movie but she does her part and she looks cute in all sequence. Songs by D. Imman are visualised well and they won't be a let down for audience.
Overall Pandiraj does his magic for Namma Veettu Pillai yet again and this movie will be thronged by audiences in B and C centres and would be a win for Siva-Pandiraj combo. TheNewsCrunch Rating – 3.75 / 5