Raktanchal is not one of the first series streaming on MX Player that deals with gang violence. The series is set in the 80's in Purvanchal, Uttar Pradesh. It is inspired by real life events of that time and showcases how Purvanchal developed them. The show deals with the rivalry of Nikitin Dheer and Kranti Prakash Jha, two mafia thug pins.
Raktanchal has been directed by Ritam Shrivastav. Raktanchal also stars Vikram Kochhar, Pramod Pathak, Chitranjan Tripathi, Soundarya Sharma, Ronjini Chakraborty, Basu Soni and Krishna Bisht in pivotal roles.
Raktanchal will be streaming on MX Player from May 28th 2020.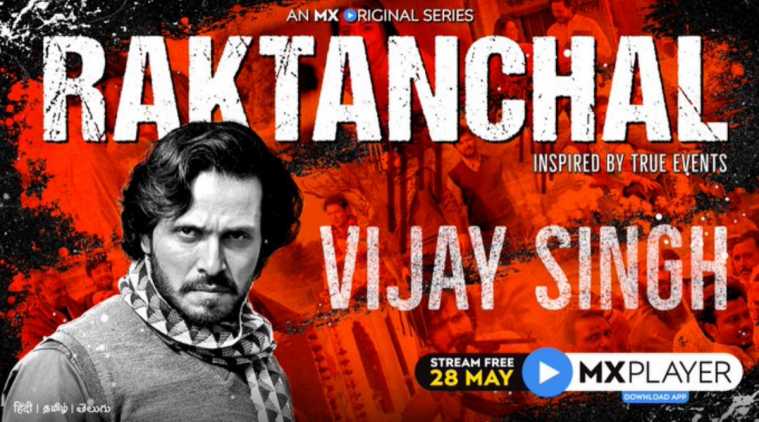 Raktanchal Web Series Trailer
The trailer of a Raktanchal gives us an insight on the bloodshed that happens in Purvanchal over the acquiring of tenders. The whole city has been torn apart and is in shambles as a result of an ongoing battle between two mafia leaders.
The trailer highlights the consequences that war bring with it when fought for power and money. Raktanchal also explores the parallels between politics and the activities of the mafia in Purvanchal.
Watch the trailer of Raktanchal here:
Raktanchal Web Series Plot
Raktanchal is a MX Player original drama. It falls under the category of crime which is a real life depiction of what life was like in the 80's in Uttar Pradesh. The story is set in Purvanchal, Uttar Pradesh. During this time the state government work was distributed on the basis of tenders.
Waseem Khan was the criminal mind behind the tender mafia then, he was challenged by a newbie criminal mind Vijay Singh. Vijay has a drive of vengeance which takes him a long way. Both the old and new mafia battle for acquiring tender with the political scenario has their backdrop.
This unfurls a battlefield in the city of Purvanchal leading to bloodshed. Vijay has personal battles of his own which need to be overcome to beat Waseem Khan and become the undisputed tender king.
Raktanchal Web Series Cast
Every character has a story to tell. Every character has a story of their own. For an actor to play a role convincingly they need to seep into the shoes of the character. The makers have a tough job find actors who will be able to do justice to the role. Characters are truly successful when they leave a mark on the minds of the viewers.
The main cast of Raktanchal are Kranti Prakash Jha, Nikitin Dheer, Vikram Kochhar, Pramod Pathak, Chitranjan Tripathy, Soundarya Sharma, Ronjini Chakraborty, Basu Soni and Krishna Bisht.
No pain. No gain.#Raktanchal streaming free from 28 May.@KrantiPJha @ritamsrivastav #MXOriginalSeries #MXPlayer pic.twitter.com/OaM8s3x7wE

— MX Player (@MXPlayer) May 26, 2020
How to watch Raktanchal Web Series ?
Raktanchal will be streaming on MX Player from May 28th 2020. MX Player has always brought novel content to the forefront and continues to do so with Raktanchal. The series is filled with pumping political drama that keeps you glued to your screen. To watch Raktanchal follow the next few simple steps:
Download the MX Player app through Appstore of Playstore
Login to your account or subscribe to MX Player
Search for Raktanchal which will be streaming from 28th May 2020 onwards
Raktanchal Web Series Leaked Online
Raktanchal is an MX Player original series which was to be released on the said OTT platform itself. The release date for Raktanchal is May 28th 2020. The show has garnered alot of interest within the audience due to its unique storyline. It has been lifted up from real life events that took place in the 80's in Purvanchal, Uttar Pradesh. Two mafia bosses fight over the acquisition of tender with a political backdrop.
Raktanchal is rumored to have been leaked online by pirated sites. The extent of piracy in India is at large and considering the current scenario, people have alot of time in their hands to conduct such illegal activities.
Raktanchal will mostly be the next victim of piracy once it is released. Websites such as movierulz, tamilrockers and cinevood have already announced that the series will be available on their websites soon.
Most of the viewers are keen to watch the show mainly because it has been inspired by real life events. The 80's have been rich in development of certain areas but a topic like this has never been dealt with and is relatively new. Modern day web series and online streaming platforms depend a lot on opening week traffic as a significant source of return on investment.
With the onset of Tamilrockers and other online web series streaming sites, makers and digital streaming partners face a haunting task of dealing with this situation in their hands. Also taking into consideration the current economic status of the country, it is only through web series that the industry will be able to make money.
It should be taken into consideration is that in such times many people have opted for subscription of OTT platforms for the sake of entertainment purposes. They will prefer to make use of the money spent rather than searching for a pirated mere 480P or 720P print version of the show.
Disclaimer: We at TheNewsCrunch condemn movie/ web series piracy and pledge for strengthening the anti-piracy laws across the globe and give due respect to the skills and talent of the actors and everyone involved in the digital entertainment industry. The Copyright Act, 1957 protects all type of music, songs, and videos, literary and artistic work. The Stop Online Piracy Act (STOP) is also one such act that restricts access to sites that host pirated content.