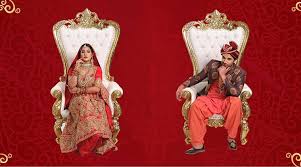 If there is anyone who could be trusted to be the honcho of a show it would be none other than fireball celebrity host Maniesh Paul. Trust him to hit any show out of the park. He makes his return onto small screen with Mujhse Shaadi Karoge. He all set with his fiery humor and wit to enthrall the audience and make them ask for more. Maniesh lights up the screen and makes you enjoy every moment. This time around he has donned the hat as the host of Mujhse Shaadi Karoge that will help Bigg Boss 13 finalists and firecrackers on their own, Shehnaz Gill and Pras Chhabra, find suitable matches for themselves. He begins the show on a high note and cracks up the audience before inviting onstage better known as Punjab Ki Katrina Kaif, Shehnaz Kaur Gill.
Shehnaz Gill's Grand Entry
In the last five months, Shehnaz has made the entire nation dance to her tunes. And she continues to do so as she dazzles on stage. She moves to the beats of popular Bollywood songs fused with her famous dialogues from Bigg Boss 13. Shehnaz has gained a lot of popularity over the last few months. Her innocence and unfiltered love was a chartbuster. She brings the same passion along with her onto this platform. She looks gorgeous in a green lehenga-dupatta. Her soft featured have been highlighted in her look. She very clearly mentions that she is looking for someone who is not only her soulmate but also someone who will shower her with attention and have streaks for her favorite Siddharth Shukla. Shehnaz lights up any place that she is in and does not fail to do so even here. She feels grateful that she was given a chance to find someone who will give her unconditional love. But she makes it a point to bring it out that she not only wants her soulmate but someone who is totally invested in her. The man should only talk about her and constantly praise every aspect of her including her lips, eyes, nose, jawline….. Quite similar to what Siddharth used to do.
https://www.instagram.com/p/B8qpudvgi3N/
Shehnaz Gill's First Suitor
Maniesh goes on to reveal that from the suitable contestants only five men will enter the house as chosen by Shehnaz. The one who wins her heart against all odds amongst these five men will be the luckiest man. Shehnaz sit on her throne better known as ' shaadi wala chair'. She gets ready to meet her suitors. Maniesh asks her to get ready to meet her first suitor, Rohanpreet from Punjab. Rohanpreet's presence takes Shehnaz by surprise. She says that they are originally friends and she actually learnt singing from Rohanpreet. To impress her, Rohanpreet uses his main talent that Shehnaz will swear by, his voice, Rohanpreet sings 'Dil Diyan Gallan' for Shehnaz. For those who have watched Bigg Boss, it is a known fact that Dil Diyan Gallan is Shehna's go to song. The lyrics and possibly the singer bring a very evident smile on Shehnaz's face. Post his performance Shehnaz acknowledges the fact that she has always been fond of his singing but she was unaware of the fact that Rohanpreet was romantically inclined towards her, this has taken her by surprise. Rohanpreet says that he will cook for Shehnaz when they are in the house. Shehnaz gives the responsibility of finalizing Rohanpreet to her brother Shahbaz. Shahbaz  questions Rohanpreet whether he has watched Bigg Boss 13 and if he is aware of the sensational Jodi, SidNaaz. He asserts the fact that if Shehnaz is ever at fault, Rohanpreet should be willing to calm her down. Rohanpreet is eager and more than willing to do anything for Shehnaz. Shahnaz grills Rohanpreet and in the end gives his confirmation. He hands over Salman Khan's famous bracelet to him.
Paritosh Gets No Attention
https://www.instagram.com/p/B8q6jOvAKru/
Post Rohanpreet's selection, Pritosh Tripathi joins Maniesh. He tells everyone that he has been madly in love with Shehnaz. He even admits that he became an alcoholic post her rejection albeit fake. He shows his desperate yet failed attempts to woo Shehnaz. She does not look at him twice and he is devoid of attention. Maniesh drives Paritosh away and welcomes the second prospective suitor for Shehnaz onstage.
Second Suitor for Shehnaz Gill
Next onstage is Vipin Sahu, he became a social media sensation soon after his paragliding video went viral. He is the second suitor for Shehnaz. Maniesh gives him a fun task which will make him prove his worth. He has to move around a wooden pole with his head on it. He goes around it multiple times but all this efforts lead nowhere since Shehnaz rejects him and he is asked to leave.
Paras Chhabra Enters To Win Hearts
The wait for Paras Chhabra finally comes to an end. On seeing him Shehnaz begins to scream and Paras asks her not to behave like the Tarzan of Punjab. Their bitter sweet bond which theyshared on Bigg Boss 13 is evident even now. Paras goes on to reveal that he would want someone who is like his mother, sweet and caring. Paras takes his seat on the throne and his first prospective bride comes onstage, Sanjana Galrani. Sanjana is a well known personality in the south film industry. Sanjana goes past all extents in her praise for Paras. She admits that they are very similar. . Paras questions her why she chose to be a part of the show when she has done over forty movies in the last ten years and is a celebrity on her own. Sanjana reveals that she also has a past, her ex-boyfriend wanted to marry her but she wanted to focus on her career then. Paras reveals that he likes Sanjana and would like to test whether they have chemistry between them before agreeing to their match. Maniesh gives them a task wherein they have to dance on a piece of paper and they very successfully ace this task. Sanjana kisses Paras on the cheek before he hands her a necklace with his name on it as a sign of his approval.
https://www.instagram.com/p/B8qzorJAnIW/
Balraj Syal in the House
Next in line for Shehnaz is stand-up comedian Balraj Syal. He directly goes on to put a garland around Shehnaz. He does not even introduce himself but puts himself to work so as to woo Shehnaz. Balraj uses his strengths to his fabor and in the end Shehnaz is won over.
Paras Chhabra's Second Prospective Bride
Post this another suitable bride for Paras comes onstage, Hina Panchal. She sizzles onstage with her performance. Paras asks her why she wants to marry him and she explains that despite earning a name and being so famous Paras is still so grounded and this is what attracted her to him. Paras is impressed by Hina and gives her a necklace as well.