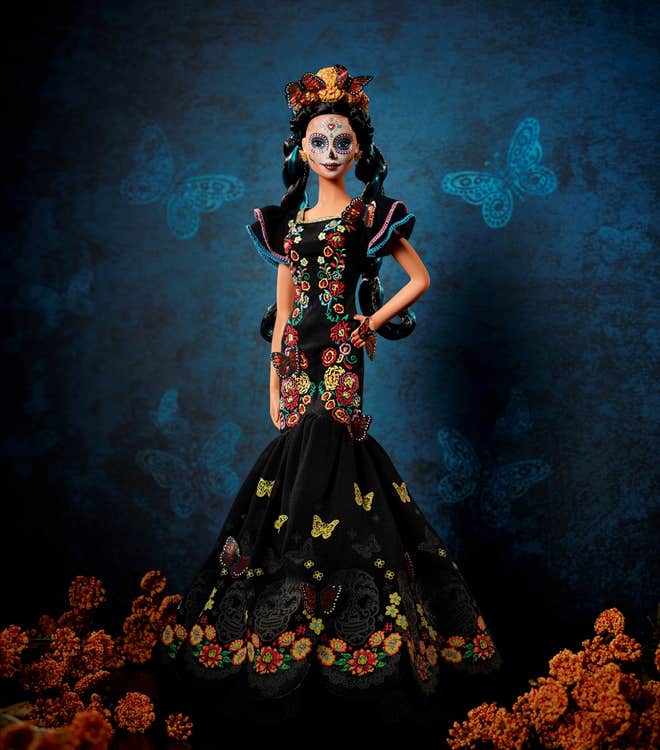 Popular toy making giant, Mattel is in the news for its latest limited edition Barbie – "Day of the Dead Barbie".
Mattel is launching this limited edition Barbie in view of the Dia de Muertos (Day of the Dead) celebrations in Mexico. Dia de Muertos is a traditional holiday in Mexico and people honor the lives of their near and dear who passed away.
Skulls are a relatable part of the celebrations and people paint their own faces with sugar skull designs on this day.
Day of the Dead Barbie Launch Date
The limited edition "Day of the Dead" Barbie will be released on the 12th of September. The famous female doll will be having a 'sugar skull' face paint, a well-decorated headdress and a traditional Black floral dress in Mexican style.
Day of the Dead Barbie Price 
Mattel, the toy manufacturing company which owns Barbie, confirmed that the Barbie is available to purchase for $75 (£60) at Walmart, Target and Amazon.com.
Day of the Dead Barbie Attracts Mixed Responses
While a section of the society is excited to see the new limited edition doll, the rest of them are blatantly condemning the same for culture appropriation.
"Is this a bad joke or what? #Mattel toy company plans to release and promotion of a Day of the Dead Barbie… Día de los Muertos is one of our most sacred traditions in Mexico dating back to prehispanic days. STOP PRODUCTION! [sic]" one person tweeted.
"Don't worry! No proceeds will go to indigenous people that sell this kind of thing much cheaper. For only $75 you can help a multi-million dollar corporation get richer!"
"I just hope that people know how much love we put into this doll and how much respect we have for the Day of the Dead," he added.
What is you view on the Day of the Dead Barbie? Let us know in the comments below.