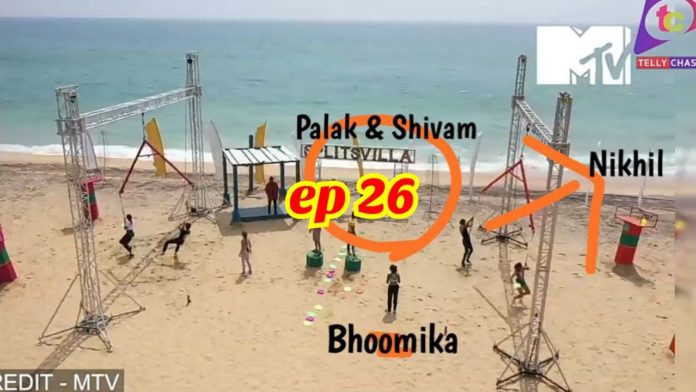 MTV Splitsvilla X3 returns this weekend after a shocking dome session. As MTV Splitsvilla 13 inches towards the finale, the semi-finalists will decide this week in Splitsvilla 13. As one pair will be crowned the ideal match next week, one contestant will face elimination in the electrifying dome session in the following week.
Shivam's gimmicks turn awry as he tried to wear Kat's name in his foot to provoke Kevin. The frustration beckons Kevin's redemption in his first ever Silver Villa moment. However, the limelight falls on the entry of four wilcard entries this week in the Villa.
Splitsvilla X3 Task Highlights – 26th Episode on 28th August
The first task after Shivam and Pallak take the ideal match throne is 'Whiskey disky'. The following pairs will perform the task:
Jay and Aditi
Kat and Kevin
Dhruv and Sapna
Nikhil and Bhoomika
Since Shivam and Pallak entered the Golden Villa yesterday, they will not be performing the task. The task features an intense couple task where the girls are left hanging while they have to catch the discs. Apparently, it is Kevin's time to prove his might in the villa. Splitsvilla 13 inches closer to the finale and the competition will intensify in this task.
There is a gruesome fight between Shivam and Dhruv and the latter pushes Shivam. Things turn awry in the villa but all is not well for the 'Let's do it' gang. Sapna's visible cracks in alignment with Kevin's team create ripples. However, the 'Boombam gang' consolidated their strength in the Golden Villa.
As a result, the task winners of Splitsvilla X3 will be updated soon. According to reports, Kevin and Kat fall short of the semi-finals of Splitsvilla x3.
Splitsvilla 13 Semi-Finalists
Shivam and Pallak
Dhruv and Sapna
Nikhil and Bhoomika
Jay and Aditi
Splitsvilla 13 Ideal Matches
Shivam and Pallak were the last ideal matches in Splitsvilla X3. It will be interesting to see which contestants make it to the Golden Villa ahead of the crucial dome session next week.
Splitsvilla 13 Wildcard Entries
Four contestants of Wild Villa will graduate to enter Splitsvilla X3 this week. Out of the four, three contestants were eliminated from Splitsvilla 13. However, this is good news for Nikita as her pair Samarthya and friend Samruddhi reenter the show. The return of Avantika will add some spice to the villa. It is expected that Avantika will join the Boombam gang.
Samarthya
Samruddhi
Avantika
Piyush
Splitsvilla 13 Elimination Updates
Ten contestants were eliminated from Splitsvilla 13 so far. However, Arushi was eliminated this week. Three weeks ago, Nikita and Samarthya became compatible matches. As a result, there will be single elimination in the next week's dome session (27th episode).
Samarthya was eliminated in the last dome session and he will enter the Wild Villa. However, this will be a big blow to Kevin's gang.
Azma Fallah
Shwetha Nair
Devashish
Janvi
Riya
Samruddhi(Returns as a wildcard)
Gary
Avantika(Returns as a wildcard)
Samarthya (Returns as a wildcard)
Arushi
Will the Villa get its next ideal match this week? 😯#MTVSplitsvillaX3 co-powered by @philipsindia, @ManforceIndia, @DenverForMen and ONN Polos & Tees every Saturday at 7 pm. Catch the action 24 hours before TV on @VootSelect pic.twitter.com/dvpj3DMTkt

— MTV Splitsvilla (@MTVSplitsvilla) August 18, 2021