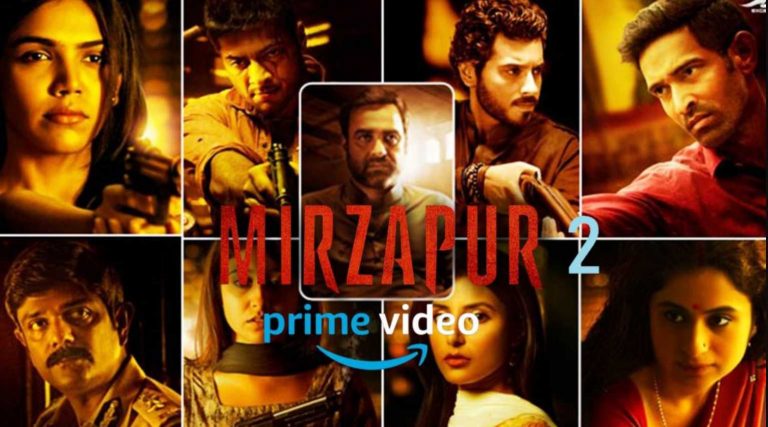 Mirzapur Season 2 would be a sequel to 2018's hit web series Mirzapur. It is an Indian crime thriller that showcases the authenticity and hype which surrounds a small town. The characters rule over the town with their violent means and the intensity with which they rule through fear. It is certainly one of the best shows written as well as produced. Its well woven and showcases an inside view of the mindset and aura which surround the people in such a violent environment.
Mirzapur was released on Amazon Prime Video and is produced by Excel Entertainment. It has flakes of drugs, the ruling of a Mafia, the action and intense fight scenarios, and rivalry which drives to thrilling crime. Its season was filmed primarily in Mirzapur itself, and some parts were filmed in Gorakhpur, Lucknow and Ghazipur.
It is directed by Gurmeet Singh and Karan Anshan and written by Karan Anshuman and Puneet Krishna.

Mirzapur Season 2 Trailer
Mirzapur Web Series revolves around the famous Mafia , Akhandanand Tripathi aka 'Kaleen Bhaiya', his son and two young brothers 'Bablu' and 'Guddu', both keen workers under Kaleen Bhaiya. Season 1 of this web series has nine episodes filled to the brim with tons of violence, thrill, glamour, and murders.
Season 1 of Mirzapur end on a dark and shocking note that takes your breath away. Munna Bhaiya kills Guddu's younger brother Bablu and his wife Sweety filled with anger and frustration. Guddu managed to survive the attack with the help of Sweet's sister Golu.
Mirzapur Season 2 Plot
It is pretty unpredictable as to in which direction Mirzapur Season 2 will go. Going by its intricate plot twists and subtle yet effective. But it is certain that Mirzapur 2 will be more violent than Mirzapur Season 1.
With Bablu dead, His brother Guddu and his family will create havoc and turn the house down for Kaleen Bhaiya and Munna Bhaiya. Bablu's father will make all the efforts to demolish Kaleen Bhaiya's power and fame from Mirzapur.
On the other side, Guddu will take revenge for the murder of his brother Bablu and his wife, Sweety. In which, many main characters Sharad (Son of Ramakant Pandey), Golu (Sweety's Sister), Beena Tripathi (Kaleen Bhaiya's second wife) might help Guddu to take revenge from Munna Bhaiya and Kaleen Bhaiya.
Every person lost their loved ones because of the selfishness prevalent in Kaleen Bhaiya and Munna Bhaiya. Guddu will use emotions of all these people productively and Kaleen Bhaiya might get weak in Mirzapur season 2.
It is also predicted that Beena will kill Kaleen Bhaiya's Father, and will support Guddu as he is the only one who can liberate her from Kaleen Bhaiya.
In Mirzapur 2, Guddu will be more powerful, and chances of survival of Kaleen Bhaiya and Munna is very less. Their one action will cost them their power as well as their lives. Golu might change as a person and take a turn for the best. He could become more fearless and revengeful after her sister's and lover's death.
Mirzapur Season 2 Cast
The lead characters of the show will be retained in Mirzapur Season 2. They will sink into the shoes of the characters they already played but will take the plot ahead. The show will be streaming on Amazon Prime from 25th December 2020.
Mirzapur Season 2 will comprise of Ali Fazal as Guddu Bhaiya, Pankaj Tripathi as Akhandanand aka Kaleen Bhaiya, Divyendu Sharma as Munna Bhaiya, Shweta Tripathi as Gajgamini Golu Gupta, Rasika Dugal as Beena Tripathi( Kaleen Bhaiya's second wife and Munna's Stepmom), Kulbhushan Kharbanda as Satyanand Tripathi (Kaleen Bhaiya's father), Anjum Sharma as Sharad Shukla (Rati Shankar's Son), Harshita Gaur as Dimpy Pandit (Guddu and Bablu's sister), Shaji Chaudhary as Maqbool Khan (Kaleen Bhaiya's trusted henchman).
Rumor has it that Vikrant Massey could mark his return as Vinay 'Bablu Pandit'. This hasn't been confirmed by internal reliable sources as yet.
Mirzapur Season 2: Rumors and Updates
Everyone is eagerly awaiting the release of Mirzapur Season 2. One of the biggest rumors is that Bablu will return to the show. This adds to the suspense and drama that is anticipated.
There is the possibility that as soon as Guddu recovers he will run the gangs of Gorakhpur. His reign will begin from Gorakhpur itself. Simultaneously, Sharad Shukla, whose sole aim is to seek revenge from Kaleen and Guddu has claimed his rights over Jaunpur. He has established himself there awaiting the sweet taste of revenge.
The main plot of Mirzapur Season 2 could revolve around Sharad's plot for revenge. Considering he has a bone to pick with both the lead characters of the show. This intense rivalry could be the base of the plot in Mirzapur Season 2.
Every gang striving to take complete control over Mirzapur, Guddu could receive the full support of the people of Gorakhpur. He will establish himself as a worthy leader and he also has prevalent good relations with everyone in the village.
It is also important to remember that the gangs of Gorakhpur detest Munna. Previously, Munna had ruined the wedding of their leaders' daughter. This could mean that this might be the last time Munna is seen. Munna has grown to be a common dislike among many people. He is the sworn enemy of gang leaders and their people.
In the last episode of Mirzapur Season 1, we saw Been trying to kill Akandanad's father. This incident could automatically cut the reins of the Tripathi family's power. The action could bring either Guddu or Sharad into power for good.
Mirzapur Season 2 Release Date
Mirzapur Season 1 was released in 2018. It was highly acclaimed and well received by the audience. Since then the viewers have been eagerly awaiting for Season 2 of Mirzapur. As per sources, Mirzapur Season 2 will be released mostly on 25 December 2020. Producer Farhan Akhtar confirmed that the shooting of the series has been completed and post production work is going on. Mirzapur Season 2 will be releasing on 25 December 2020.
How to watch Mirzapur Season 2?
Amazon Prime has the rights of Mirzapur ever since its season 1. Amazon Prime continues to have right over Mirzapur Season 2 web series. When the show releases it is obligatory that it will stream only on Amazon Prime. It will not be available on any other OTT platform for streaming. To watch Mirzapur Season 2, follow the next few simple steps:
Download Amazon Prime
Login to your Amazon Prime account. If you do not have an Amazon Prime account then subscribe for the same.
Search for Mirzapur Season 2. It will be mostly available for streaming from December 25th 2020