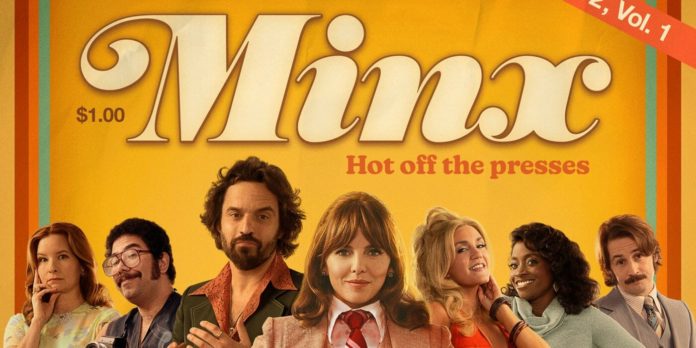 Minx is an American comedy television series created and written by Ellen Rapoport.
Minx Season 2: Release Date  
Season 1 of Minx premiered on HBO Max on March 17, 2022. Regardless of the fact that HBO has yet to make an official statement regarding the series' future, the second season of Minx is expected to premiere in March 2023.
When asked about the possibility of a second season in an April 2022 interview, executive producer Paul Feig stated that he has the season 2 blueprint. "When you set up a show and you go in and pitch it, you have to be able to pitch up to Season 3 and Season 4," he told Collider. "Not in great detail, but … we definitely know where it's going."
Minx Season 2: Who might be the casts?
Ophelia Lovibond was cast in the leading role in September 2020. Minx Season 1 casting actors included: Ophelia Lovibond as Joyce Prigger and Jake Johnson as Doug Renetti. Glenn is played by Michael Angarano, Bambi is played by Jessica Lowe, Richie Lennon is played by Oscar Montoya, and Shelly is played by Shelly Parham. The return of Ophelia Lovibond, as well as Jake Johnson as Doug Renetti is rather evident. However, there is doubt concerning Idara Victor's (Tina's) return as her character may leave for Chicago.
Minx Season 1: Plot and Storyline
Joyce is a passionate young feminist who wants to launch a magazine called "The Matriarchy Awakens" that focuses on women's issues. However, Doug, the owner of a porn magazine publisher Bottom Dollar, seems to be the only publisher who really is slightly interested. Joyce and Doug are constantly disagreeing over what content to publish, but they both work together to publish Minx. Watch the trailer for Minx: Season 1
Towards the end of Season 1, Doug's company is dealing with a lot of protests and lawsuits. Doug understands Joyce's indispensability, but she refuses to return to Bottom Dollar Publications. Joyce loathes being controlled by Doug, so Doug sends the magazine to the magazine's creator. Shelly and Bambi get romantic but she returns to her husband Lenny. Tina's application is accepted by the University of Chicago, while Westbury continues her attempts to ban pornography in the San Fernando Valley and aims to destroy Doug's publishing company.
What can we expect from the upcoming season?
In season 2 of Minx, we can perhaps expect to see how Bottom Dollar Publications handles the protests. There is a possibility that  Joyce may choose to pursue a career independently. Season 2 might go more into Doug's troubles as he fights Westbury's efforts to outlaw pornographic magazines. It can depict the effects of Doug and Tina's relationship now that she must move from Los Angeles. Tina, on the other hand, is unlikely to see much screen time. Shelly and Lenny would work on their marriage. Finally, Bambi and Richie may opt to join Joyce and support her with her journey as an independent woman.
Read KGF 2 Movie OTT Release Date: KGF Chapter 2 to Release on this OTT Platform on This Date?