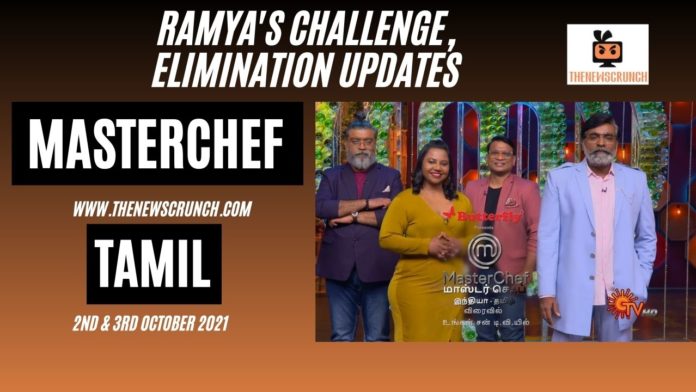 Sun TV's entertaining cooking reality show returns this weekend with an exquisite set of challenges for the contestants. The top eight contestants will battle it out in an intense week which will keep the audience at the edges of their seats. The host Vijay Sethupathi will welcome the special guest, Ramya Nambeesan for this weekend's episodes.
Masterchef Tamil's promising contestant, Kritaj was eliminated from the show. The journey of Masterchef Tamil ended for Kritaj on a disappointing note. The host Vijay Sethupathi and judges look forward to fine cooking this weekend ahead of this week's challenges.
According to reports, the seventh elimination of Masterchef Tamil will take place this week. Hence, the limelight falls on the bottom-placed contestants and winners of the immunity challenge this week. There will be a special challenge announced Ramya Nambeesan this week.
ரம்யா நம்பீசன் கொடுத்த அந்த சர்ப்ரைஸ் என்னன்னு தெரியுமா?

மாஸ்டர் செஃப் – தமிழ் | Sat – Sun | 9:30 PM#SunTV #MasterChef #MasterChefTamil #MasterChefOnSunTV @VijaySethuOffl @themadchefindia @AarthiSampath4 @chef_hrrao @nambessan_ramya pic.twitter.com/PC39aKgKnK

— Sun TV (@SunTV) October 1, 2021
Masterchef Tamil Elimination Updates
Sunitha, Kritaj, and Vinny were among the bottom-placed contestants last week. However, the elimination challenge will feature multiple dimensions to test the talent of the home cooks this week. As a result of the scores of the three judges, who will be a part of the elimination of Masterchef Tamil this week.
Sunitha is consistently lurking in the bottom three for quite some time now. However, she was saved with Kritaj's shocking elimination last week.
Masterchef Tamil Elimination List