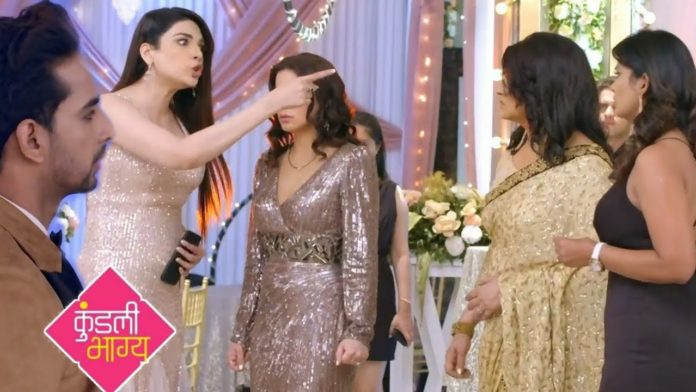 In the serial 'Kundali Bhayga,' Preeta sees Akshay misbehaving with Megha. After which, she slaps him. On seeing all this in Luthra House, all the people are shocked. When she asks Megha the truth, she implicates Preeta. Megha says Preeta gave her money to lie against Akshay.
In the upcoming episode, it will be shown that Akshay says that Srishti wants to marry him, so she wants to break Kritika's marriage. Sarla explains to Rakhi that you people are not trusting us, whereas you have known our family for so many days. Sarla is very angry and leaves from there.
Sarla tells Preeta that she had already said that if there is any concrete evidence, she will say something about Akshay in Luthra House. Kan meets Sarla, and she tells him that Srishti cannot do anything like this. Karan says that he knows that Srishti is not going to do anything like this. Karan says that now he is suspecting Akshay too.
Kundali Bhagya Written Update: Due to this act, Preeta slaps Akshay, Megha said such a big lie
Here Akshay tells Preeta why you are so bad. That girl trapped you by obeying me. While answering this, Preeta says, you cannot talk to me insolently and stay away from my family. After a few days, I will tell your truth to everyone. Akshay threatens Preeta and says that if you spoil my relationship, I will also set your relationship on fire.
In the last episode, you saw that everyone is enjoying the cocktail party, then Akshay will be seen doing misbehaving with a girl. Preeta and Srishti see Akshay being abusive with the girl. After which, Preeta slaps Akshay. She comes in front of the whole family about Akshay so that she can tell her full truth. But here is a twist that Akshay has already prepared for it. But Akshay tries to be straight. Preeta says that she should leave Kritika's life.