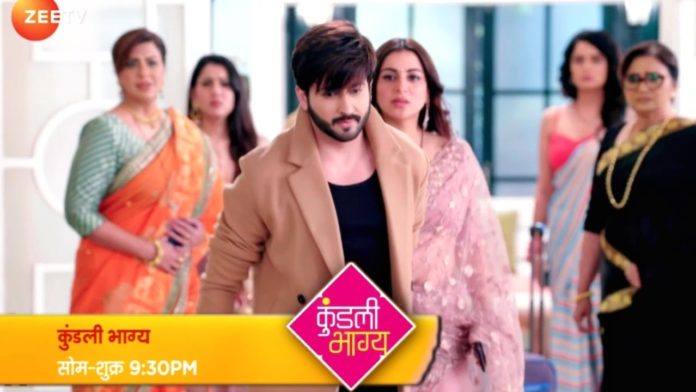 In Kundali Bhagya, viewers will get to see new twists. Preeta is engaged in finding out the truth of Akshay. Preeta sees her in a hotel with a girl and then goes there with all the family members. But again, Akshay fails his plan, and Preeta proves false in front of everyone.
In the episode aired today, 5th February 2021, it will be shown that Preeta's entire plan to expose Akshay falls on her. Seeing Akshay being insulted, his family members get outraged. After which, Kareena apologizes to them and assures them that due to Preeta, they will not have any problems now.
Kareena is very angry with this act of Preeta and takes her from the hotel by holding her hand. Here, Akshay's mother slaps him and says that he would be caught if those people did not come on time today. The truth of Akshay is known to his entire family and is included in his plan. They know that Ruchika has a child and whose father is Akshay.
Here Kareena does not take Preeta to Luthra House and leaves it outside the hotel. Seeing Preeta outside, Akshay tells her that she will never beat him and let this marriage happen. Preeta responds by saying that she will not allow her and Kritika to get married at any cost. Akshay tells him that he saw Sameer outside the hotel.
Kareena keeps waiting for her at Luthra House with Preeta's luggage. After Preeta's arrival, she tells him that he should stay away from Luthra House until Kritika is married. In the last episode, you saw that Preeta reaches the same hotel with all the family members, in which Megha and Akshay are staying. Preeta reaches Akshay's waist with everyone, and after seeing everyone together, Akshay pretends to be afraid. Preeta does not say anything when asked about Megha. Preeta sees the whole room but finds no one.