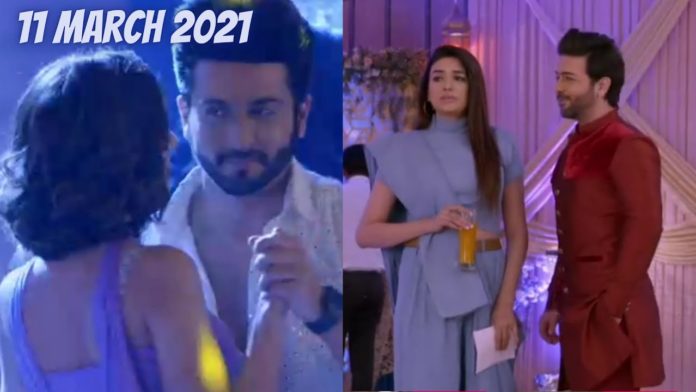 In the serial Kundali Bhagya, the track of Indin Kritika and Prithvi's wedding is going on. Mahira tries to get Kareena's attention by saying bad things about Preeta during the function. Srishti and Sameer go to Earth's house to find evidence. Apart from Preeta, she also knows that Prithvi has married Kritika for wrong intentions. Kritika is not ready to hear anything about the Earth.
In the Kundali Bhagya episode aired on 11th March 2021, you will see that Preeta convinces Rishabh and Karan to dance for Kritika. Suresh, Pammi, and Rakhi advise the three Kareena to trust Preeta as she is a good girl and does not doubt anyone unnecessarily. Prithvi tries to mislead Shubham and Kritika's conversation.
Here, Srishti and Sameer arrive at Prithvi's apartment to find out her truth. Kritika has completely trapped Prithvi in ​​her talks. Now he is not ready to hear a word against her. Rishabh has agreed to her relationship, but Karan is still unhappy with this marriage. Here Mahira is trying to be good. Mahira is repeatedly trying to get close to Karan.
You saw that Mahira would go to Kareena after meeting Karan. Mahira knows very well that Kareena Bua does not like Preeta at all. Mahira will once again provoke Kareena against Preeta. Kareena is again going to tell Preeta fiercely. But Pammi and Suresh will support Preeta. Now it will be interesting to see what is going to happen in the upcoming episodes.
In the last episode, you saw that Rishabh flares up on the Earth on the other side of the party. At the party, Rishabh sees that Kritika is crying because of Prithvi. Rishabh loses his cool after seeing Kritika's tears. After which, Rishabh beats Prithvi with his belt. Rishabh locks the earth in a room. Rishabh asks her what role she plays in her father's accident. Prithvi says that he did not do anything like this, and he cannot even think of doing so. Rishabh gets very angry after hearing this.