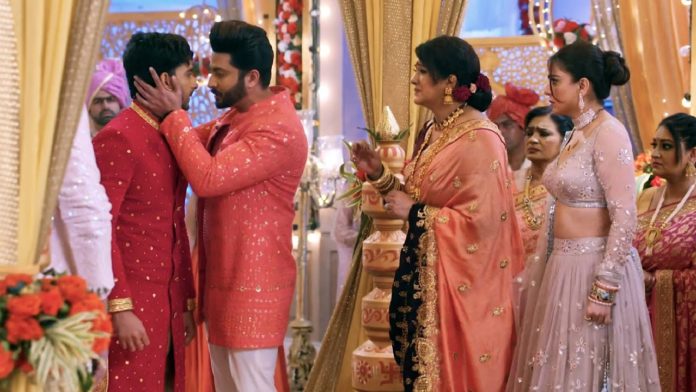 A big twist is coming in Zee TV's serial 'Kundali Bhagya.' As per the released track, Kritika and Akshay's wedding rituals are going on. Here Preeta has decided that she will bring the truth of Akshay in front of everyone. She fervently tells Akshay that her hand is the picture of his wife and child, which she will show to everyone. She tells him to tell all the truth in front of everyone. Akshay gets a little nervous.
Preeta says in front of everyone in the pavilion, Akshay himself should tell his truth in front of everyone. Kritika says that today we are married; please do not do this. Preeta gives pictures and DNA reports to Kareena and says that he is cheating Kritika, marrying her only for money. Karan is also shocked to hear this. Kareena looks at the pictures but puts her in the fire. Preeta is shocked to see this.
Now, Akshay walks his trick and breaks the marriage, saying that these people do not want you and me to be married. Repeatedly, Preeta brings false accusations against me by bringing evidence. In the upcoming episodes, you will see that, with Akshay breaking the wedding, Kritika breaks completely. Soon, Kareena blames Preeta for ruining Kritika's life. She tells him rightly.
Karan is also angry with Preeta. Sarla gets angry after hearing his words. She clearly says that even though everyone should blame her, she knows that Preeta cannot do anyone badly. Akshay is wrong, and he has tried to prove it again and again. She yells at Kareena, and the two argue fiercely. After which, Sarla leaves Preity in Luthra's house and drags her away with him. It will be interesting to see what happens next.
You saw that Karan tells Preeta that he had forbidden him to do any drama in marriage. Amidst all this, Akshay also gets up from the mandap and refuses to marry. Akshay accuses Preeta that he is breaking this marriage because of her. Karan is angry at Akshay after seeing all this and asks him to get married.