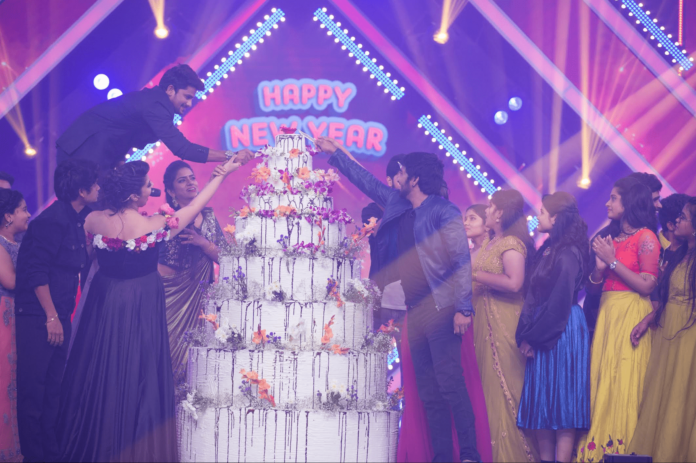 Zee Telugu, the first and favorite entertainment destination of the Telugu states, welcomes 2021 in its inimitable style and festive spirit with 'Party Ki Velayera' – a special year-end fun-filled bash along with the launch of its new non-fiction show 'Big Celebrity Challenge Season 5' on 27th December 2020.
As the states gear up to ring in 2021 with a New Year bash, Zee Telugu presents the ardent viewers' biggest ever party. Party Ki Velayera with Zee Telugu Kutumbam is the ultimate destination for letting your hair down and experiencing the biggest new year show. Hosted by the exuberant Sreemukhi, the channel will recognize and celebrate the best in Zee Telugu's world and present them with funny awards such as Lazy Lady, Sleeping Spider, Make-up Maharani, among other awards. Fiction artists from Zee Telugu like Sriram, VJ Sunny, Madhumita, Deepti Manne, Gokul, and Non-fiction artists from SRGMP 13th season contestants and Saddam, make the event much brighter and more colorful. Watch Zee Telugu Kutumbam bid adieu to 2020 and welcome 2021, cutting the biggest cake ever in the history of television. The event is all set to telecast on your television screens on 27th December 2020 at 6 PM only on Zee Telugu and Zee Telugu HD.
Over the seasons, Big Celebrity Challenge on Zee Telugu has become a mecca for those looking to show their extraordinary flair to the world. Bringing together talent that goes beyond the ordinary, where the celebrity guests will bet on daredevil challenges performed by talented commons; Zee Telugu launches Big Celebrity Challenge season 5 on 27th December at 9 PM only on Zee Telugu and Zee Telugu HD for talent that speaks volumes about its incredibility. Big Celebrity Challenge Season 5 is all set to woo audiences yet again with the unseen, unheard, and untouched talent acts that are breathtaking, creative, bizarre, and unique! This season, the favorite reality show on Telugu television will be bigger than ever as the show's set displays advanced technology of international standards that are guaranteed to awe the viewers. Hosted by the talent Suma Kanakala and energetic anchor Ravi, the first episode will witness the versatile actor Kaushal Manda and youth icon Rahul Sipligunj.
With the promise to keep you entertained with high-end drama, power-packed performances, and lots of fun and quirky moments, Zee Telugu will premiere Party Ki Velayera at 6 PM and Big Celebrity Challenge at 9 PM on 27th December only on Zee Telugu and Zee Telugu HD.
To enjoy the show, subscribe to Zee Telugu, available in the Zee Prime Pack at Rs. 20 per month
To ensure you do not miss out on your favorite Zee Telugu shows, choose the Zee Prime Pack that includes Zee Telugu and Zee Cinema alongside 7 other top channels of the Zee Network cater to the daily entertainment needs of your entire family at Rs. 20 per month only. For further information, contact your DTH or cable operator.
About Zee Telugu:
Zee Telugu is the Telugu General Entertainment Channel of Zee Entertainment Enterprises Ltd (ZEEL). Launched on 18th May 2005, Zee Telugu was the first entrant from Zee bouquet to enter South India. Zee Telugu offers various shows that cater to the entertainment preferences of over 75 million Telugu audiences across India every week. From fiction shows to reality shows and talk shows, the channel has multi-genre offerings and is widely accepted as the ultimate entertainment destination. Zee Telugu creates exceptional content by offering fiction shows with unique story-lines, state-of-the-art non-fiction shows & events with extraordinary formats, and acquires satellite right to some of the largest Tollywood movies that appeal to viewers across age groups.
With a balanced mix of content and programming options, Zee Telugu is one of the top Telugu GEC channels in Andhra Pradesh and Telangana. Zee Telugu is well connected across all cable and digital platforms and also available on ZEE5.