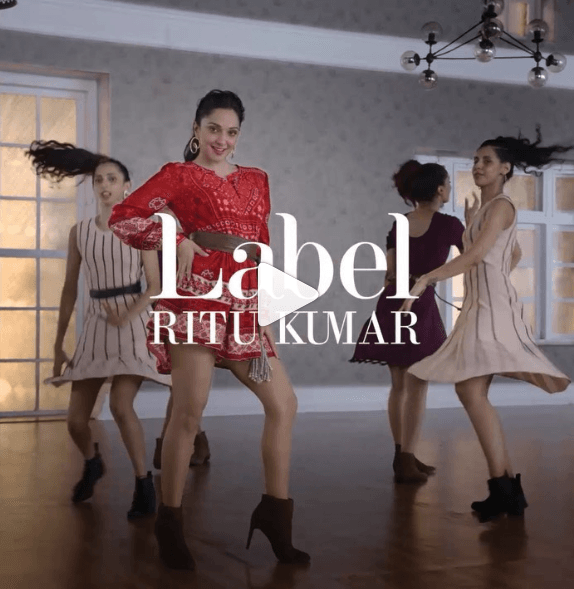 Bollywood beautiful actress Kiara Advani, who is seen in the film Kabir Singh with Shahid Kapoor, is very busy these days with her upcoming films. Kiara Advani will soon be seen in Akshay Kumar and Kareena Kapoor Khan's film Good News and Karthik Aryan's film Bhool Bhulaiya 2. Meanwhile, Kiara Advani has shared a very sexy video of her social media where she is seen dancing for Label Ritu Kumar. In the video, Kiara is seen doing very hot and sexy dance moves. In the video, Kiara's hot and sexy style is being liked by all her fans. The video caption says "Super thrilled to be the face of @labelritukumar AW'19 campaign. Time to #JustDanceWithLABEL. Show me your moves and one lucky winner will win a 25k gift hamper from Label Ritu Kumar. Don't forget to tag @labelritukumar and add the hashtag #JustDanceWithLabel on your video on Instagram."




The video shared by Kiara has been viewed many times on her Instagram account. In the video, Kiara is seen dancing in a very sexy style in short dress. Fans are very fond of this hot and bold style of Kiara. A lot of likes and comments have come on the video so far. Fans are praising this bold style of Kiara. After the film Lust and Kabir Singh, Kiara Advani has started making a lot of headlines on social media including B Town.
https://www.instagram.com/p/B2zJFgmHu8j/
Apart from Kiara Advani, many of her fan pages also keep sharing her hot and sexy photos and videos, which her fans like a lot. Kiara Advani herself shares her hot bold and sexy video photos via social media. Kiara Advani likes to be active on social media. Apart from this, she likes to share her every activity with her fans. Kiara Advani is followed by millions of users on Instagram, she is quite popular on social media.
Kiara Advani is on a chariot of success these days, who is getting many films back to back and his films are also proving to be hits. Kiara Advani will soon be seen in Karthik Aryan's film Bhul Bhulaiya 2. TCeries has given information about this by tweeting. The film is being directed by Anees Bazmee and the audience is eagerly waiting for it. Apart from this, she will also be seen in Akshay Kumar's film Lakshmi Bomb.
https://www.instagram.com/p/B1Yn0monqRC/
https://www.instagram.com/p/B0Qnjw4ny3a/
https://www.instagram.com/p/Byt49i7HtN4/
https://www.instagram.com/p/Bymwz51H4LU/