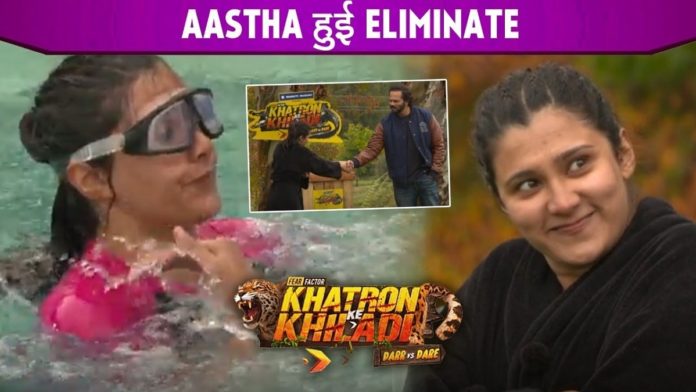 Khatron Ke Khiladi 11 enters a fitting week filled with adrenaline-pumping stunts, suspense-filled elimination announcements. The 'Popular Stunts Week' featured three stunts on the 14th of August 2021, Saturday's episode.
The elimination stunt this week will decide the third elimination of Khatron Ke Khiladi 11. Aastha Gill was the last contestant to be eliminated. Though it was a disappointing elimination, this week's fear fanda owners will get a shot at redeeming their KKK11 journey.
Kal phir aayenge humaare jabaaz khiladi naye stunts mein compete karne ke liye. Do not forget to tune in to #KKK11 tomorrow at 9:30 pm only on #Colors. pic.twitter.com/DJHmz6lGJc

— ColorsTV (@ColorsTV) August 14, 2021
Khatron Ke Khiladi 11 Fear Fanda – Elimination Stunt Updates
The first stunt on Saturday featured an underwater stunt. Rahul, Anushka, and Vishal performed the stunt. Unfortunately, Anushka and Vishal aborted though Rahul performed exceptionally well. As a result, Anushka received the fear fanda.
In the second stunt, Abhinav/Niki, Mahek/Varun, and Divyanka/Arjun performed the stunt. The partner stunt involved a suspended platform. The flags will have shock and the last two contestants will get the fear fanda. Abhinav and Nikki put a dismal performance with just one flag while Divyanka and Arjun captured the most number of flags. As a result, Abhinav/Nikki and Mahek/Varun received the fear fanda.
The third task involved the coffin lock task which was fought by Shweta and Sana. The contestant with the least time to open all locks was Sana and as a result, Shwetha received the fear fanda.
Khatron Ke Khiladi 11 Fear Fanda Contestants
Anushka
Abhinav
Nikki
Mahek
Varun
Shwetha
Khatron Ke Khiladi 11 Elimination Updates
Two eliminations took place in Khatron Ke Khiladi 11 so far. However, the elimination stunt this week will be a crucial one for Nikki, Anushka and Shwetha. Varun was impressive and might get safety this week. There is a relief stunt to get the safety badge from elimination stunt this week.