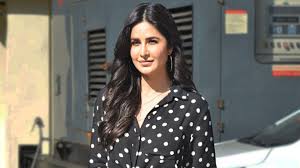 Over the years Katrina Kaif has only got more gorgeous. She has always been at the top when it comes to beauty and fashion and proved this with the launch of her beauty brand, Kay Beauty. She sets a million hearts soaring with her one look. In her decade long career she has given some stunning performances that have left you gaping at her. From her comic timing in Singh Is King to her soul touching role in Jab Tak Hai Jaan to the much recent Bharat. Katrina has always raised the bar and her wardrobe just keeps getting better.




https://www.instagram.com/p/B73PhhBh1Gj/
Today, the actress experimented with her style and totally won the look. She is totally bringing back the 80's with this refreshing look. For the day out, she chose for a solid-hued yellow leather skirt and instead of balancing it out with a simple tee, which would have been too overrated. The actress showed enough of her toned midriff as she styled the skirt with a cropped polka dot shirt that was tied up in the front. She jazzed it up with a simple pair of hoops which accessorized her look while strappy heels added height to her already tall frame that made her outfit complete.
She chose to Keep her long brunette locks open and opted for soft waves that casually brushed her shoulders, if looks could kill this would certainly be the time. Soft smokey eyes, flawless base and neutral lips completed her look. If someone needed to be crowned effortless yet breathtaking, Ms.Kaif you may be coronated.
Katrina will be soon dazzling the big screen opposite Akshay Kumar in Sooryavanshi directed by Rohit Shetty hitting the screens on 27th March 2020.
https://www.instagram.com/p/B7P4p4Kh_PW/
We adore her chic look and she is totally killing the polka dots. We must say we are way more than Kay with this look ( Wink, Wink). Do let us know what you think in the comment section below.