The highly anticipated film "Ponniyin  Selvan," which is based on the popular novel by Kalki, has been making waves in the entertainment industry. Directed by Mani Ratnam and produced by Lyca Productions, the film is set to release in two parts. The first part, which was released last year, received critical acclaim from audiences and critics alike. The second part, "Ponniyin  Selvan 2," is set to release on April 28 in five languages including Tamil, Telugu, Hindi, Kannada, and Malayalam.
As the release date of "Ponniyin  Selvan 2" draws closer, the film's cast has been engaging with fans on social media. Actors Karthi and Trisha, who play the roles of Vandiya Deva and Kundavai respectively, have been exchanging playful banter on Twitter, much to the delight of their fans.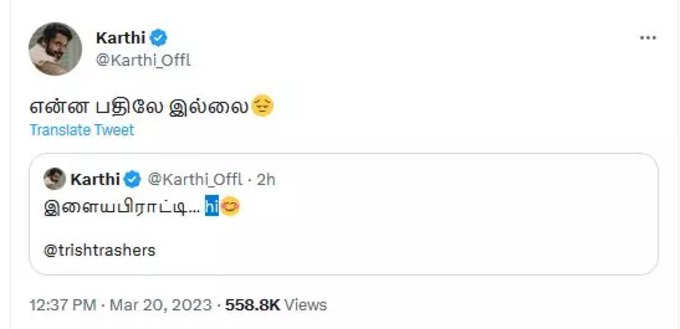 Ahead of the release of the song "Aka Naga" from the film, Karthi reached out to Trisha, but initially received no response. Trisha eventually responded to Karthi's message and the two engaged in a fun conversation on Twitter.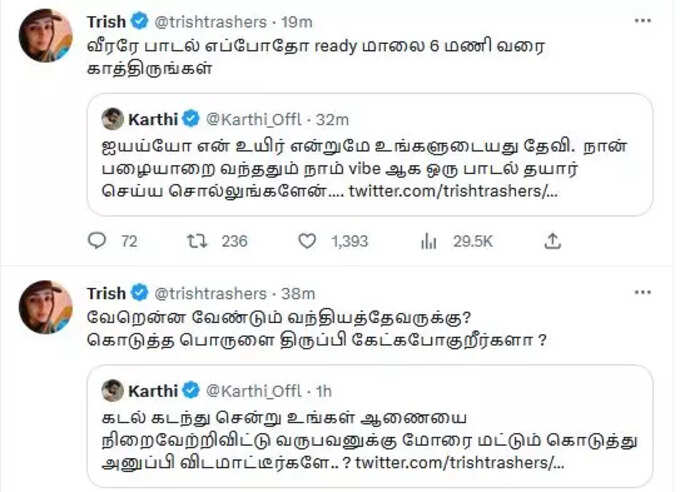 As fans eagerly await the release of "Ponniyin  Selvan 2," the playful banter between Karthi and Trisha has added to the excitement surrounding the film. Trisha is currently shooting for "Leo" opposite Vijay in Kashmir.
The song "Aka Naga" from "Ponniyin  Selvan 2" is set to release later today.