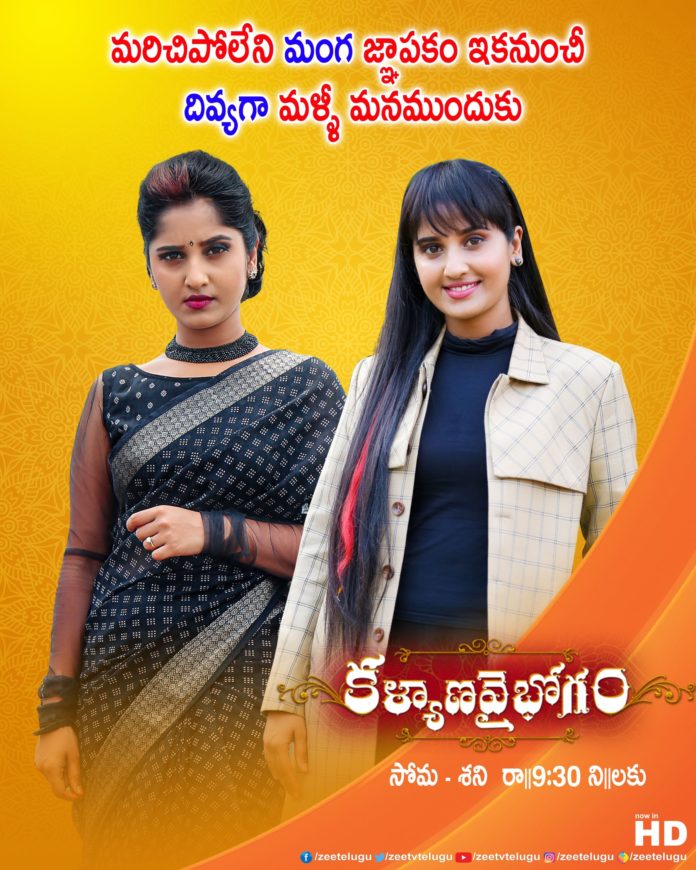 What appears to be the end may truly be a new beginning, as Zee Telugu's most popular show, 'Kalyana Vaibhogam,' soon takes a 12-year leap after they bid adieu to the lovely couple Jai-Manga. The show, which repeatedly wins the hearts of Telugu audiences, will soon introduce new characters in its plot to engage the viewers at 9:30 PM from this Wednesday, i.e., April 28th, 2021.
The leads of the show progress to a new degree where Jai's family wait for the return of their granddaughter Divya from the United States of America. Nitya (Meghna Lokesh), the show's antagonist, is released from jail while Divya – the character who Meghna Lokesh also plays, searches for her lost brother Abhi. However, she comes across Siddhartha and Sreekar, who both claim to be her brother Abhi. At this juncture, how Divya leads her path and finds out about her real brother; what further trouble Nitya brings in the lives of Divya and the real Abhi, ensure to keep the audiences at the edge of their seats.
Stay tuned as viewers witness this and a lot more when Kalyana Vaibhogam's new chapter begins starting Wednesday, April 28th at 9:30 PM only on Zee Telugu and Zee Telugu HD.
To enjoy the show, subscribe to Zee Telugu, available in the Zee Prime Pack at Rs. 20 per month. To ensure you do not miss out on your favorite Zee Telugu shows, choose the Zee Prime Pack that includes Zee Telugu and Zee Cinemalu alongside 7 other top channels Zee Network that cater to the daily entertainment needs of your entire family at Rs. 20 per month only. For further information, contact your DTH or cable operator.
About Zee Telugu:
Zee Telugu is the Telugu General Entertainment Channel of Zee Entertainment Enterprises Ltd (ZEEL). Launched on 18th May 2005, Zee Telugu was the first entrant from Zee bouquet to enter South India. Zee Telugu offers various shows that cater to the entertainment preferences of over 75 million Telugu audiences across India every week. From fiction shows to reality shows and talk shows, the channel has multi-genre offerings and is widely accepted as the ultimate entertainment destination. Zee Telugu creates exceptional content by offering fiction shows with unique storylines, state-of-the-art non-fiction shows & events with extraordinary formats, and acquires satellite right to some of the largest Tollywood movies appeal to viewers across age groups.
With a balanced mix of content and programming options, Zee Telugu is one of the top Telugu GEC channels in Andhra Pradesh and Telangana. Zee Telugu is well connected across all cable and digital platforms and also available on ZEE5.