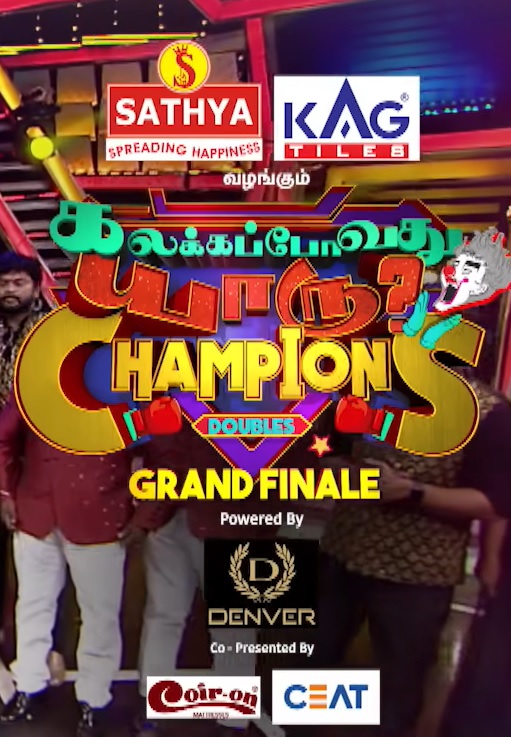 "The world is tragedy to those who feel
But a comedy to those who think"
I guess we all came through this proverb before. Yes fun time is very essential one to move on one's life. In that respect, Vijay TV has presenting a popularly known comedy show, Kalakka Povathu Yaru(KPY). As of now KPY champions doubles running successfully on Vijay TV. Let's have a glimpse of the winner, runner up of KPY 2022 here.
Kalakka Povathu Yaaru Champions Doubles Grand Finale Date
The grand finale of KPY champions doubles is going to be held on Sunday, 14th August 2022 at 3 PM. As per the recent news, the winner is assessed based on the judge's scores. Notably, this show is hosted by Erode Magesh and Myna Nandhini. The judges of the show are, Robo Shankar, Madurai Muthu and Archana Chandhoke.
Now the promo is out. Sivakarthikeyan will be the special guest. The grand finale program show will be rocking for continuous three and a half hours. In the released promo, special guest Sivakarthikeyan could be seen having a fun conversation with the show hosts and contestants. The presence of Sivakarthikeyan will be cool and pleasant moment to all. So definitely it is going to be great feast for the viewers.The promo link below for you to have a look,
Kalakka Povathu Yaaru Champions Doubles Grand Finale Title Winner
As per the media response the below pairs of contestants of expected to be a part of KPY Champions doubles 2022, on Sunday(14th August).
Amuthavanan-Palani Pattalam
Vinoth-Bala
Jayachandran-Aadhavan
Rajavelu-Satheesh
Azar-TSK
Ramar-Nisha
In actual everybody are put in their core efforts to bring up the humor and make the entire show to be fun-filled. Along with fun, they don't miss sharing social messages with the audience, which accounts for the great success in reaching the viewers.
Despite everyone's best efforts, the contribution of Amuthavanan-Palani Pattalam pair has remained in the minds of the people and the judges through their extrodinary performance. So they are expected to win the trophy. The pairs, Vinoth-Bala and Ramar-Nisha expected to be a first and second runner up respectively.
According to the media message the winner prize money will be around 50 Lakh. However the above said things are not yet confirmed officially. Stay tuned to this page for more upcoming updates.