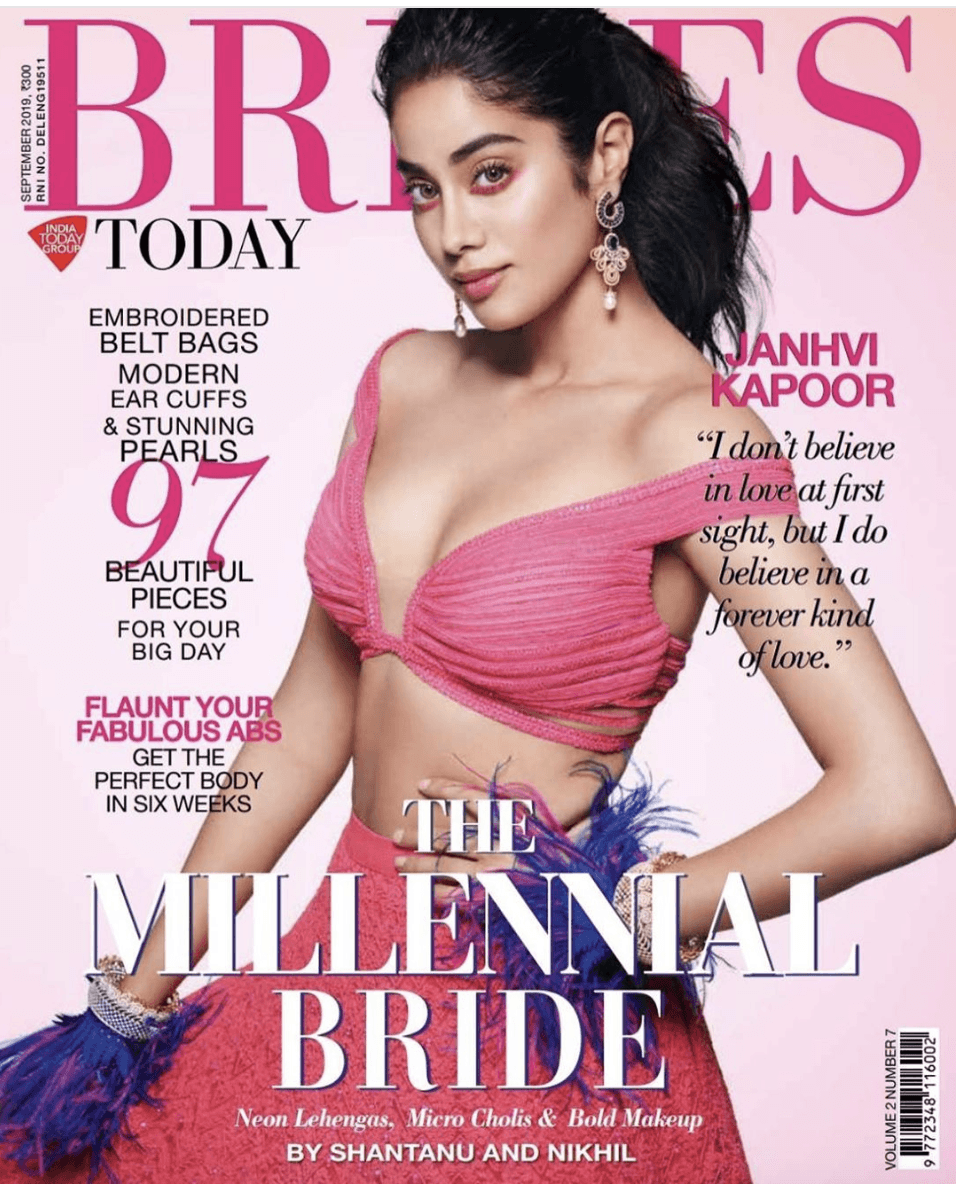 Sridevi's elder daughter Janhvi Kapoor stepped into Bollywood with Dhadak, Janhvi won everyone's hearts with her brilliant performance in the first film. Janhvi Kapoor used to be one of the few celebrity daughters who was in limelight even before making her debut in Bollywood. Janhvi's photoshoots usually goves viral on social media and this photoshoot is no exception.




The photo of Janhvi Kapoor is once again going viral on social media, in which her beautiful style is being seen. Actually, Janhvi Kapoor is seen as a cover girl for the September edition of Brides magazine. Janhvi Kapoor's pink style in the photo is very pleasing to the fans, Janhvi Kapoor is wearing a pink crop top and pink skirt in the photo. Janhvi Kapoor is seen very hot and sexy in nude lipstick and makeup.
This photo of Janhvi Kapoor has received more than 1 lakh likes, it can be guessed that the fans are very fond of Janhvi's photo. Janhvi Kapoor has a long list of fans on social media, Janhvi Kapoor has 5.6 million followers on Instagram. Janhvi Kapoor is currently shooting for hwe upcoming film Gunjan Saxena.
Janhvi Kapoor will be seen in the role of Gunjan Saxena in this film. Apart from this film, Janhvi Kapoor will be seen in the film Rooh Afza, in this film Janhvi Kapoor will have a double role. In the film Ruh Afza, Janhvi Kapoor will be seen alongside actor Rajkumar Rao, besides Janhvi Kapoor will also star in Dostana 2.
https://www.instagram.com/p/B1vEKKagQ7V/
https://www.instagram.com/p/B0qoknhA0lA/
https://www.instagram.com/p/By6_W8lAY8S/
https://www.instagram.com/p/By5wtYPA5Kq/
https://www.instagram.com/p/Bv8cM3GnUbm/
https://www.instagram.com/p/BuePu5qHh3t/
https://www.instagram.com/p/Bv68RrfHaBW/