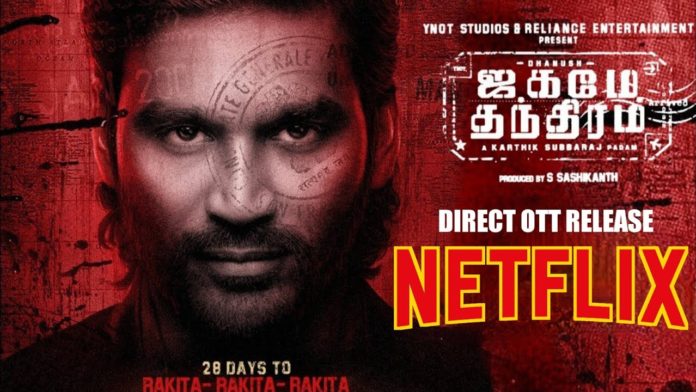 Dhanush starrer 'Jagame Thandhiram' has confirmed a direct OTT release. 'Jagame Thandhiram' is a film directed by Karthik Subbaraj and starring Dhanush, Hollywood actor James Cosmo, Aishwarya Lakshmi, Lal Jose, Kalaiyarasan, and Rasukutty, among others. Composed by Santosh Narayanan and cinematography by Shreyas Krishna. Produced by Y Not Studios and co-produced by Reliance.
The film was made at great expense and was ready before the onset of the corona threat. Negotiations for the release began as soon as the corona threat subsided and theatres reopened.
At one point, the Netflix OTT platform offered to pay a large sum for a direct OTT release. But, due to the film industry's persuasion and Dhanush's displeasure, it was decided that it would be a theatrical release. At that time, there was a conflict of opinion with the theatre owners during the release talks of another film, 'Aelay' by Y Not Studios.
Following this, Y Not Studios gave the surprise of 'Aelay' direct release on Vijay TV. Besides, Netflix, which had earlier offered a large sum of money, is now officially accepted and confirmed the direct OTT release of 'Jagame Thandhiram.' Thus 'Jagame Thandhiram' will not be releasing in theaters.
Jagame Thandhiram is expected to release during the first week of April 2021 as a Tamil New Year treat on the Netflix platform. An official announcement will be made soon. Netflix has decided to release 'Jagame Thandhiram' in 6 languages ​​in India. Also, Netflix has decided to popularize their OTT in India with this film.