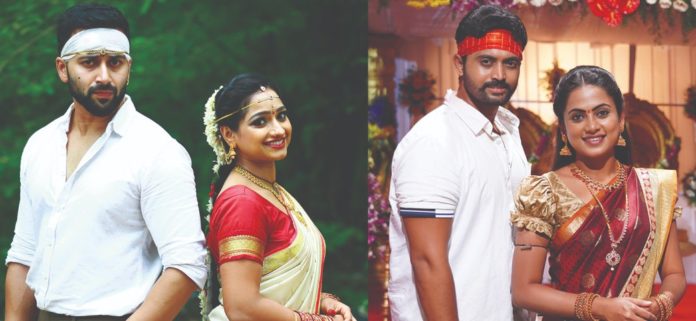 Intrinsic to our DNA of understanding the viewer's pulse and their entertainment needs, Zee Telugu presents its content resumption strategy with gripping plots of its marquee shows. As the world battles the novel pandemic by adopting social distancing, Zee Telugu continues to innovate unique and engaging content for its audience.
It is 'Wedding week' on Zee Telugu, where the viewers will witness a turning point in the lives of Saraswathi in No.1 Kodalu and Nayani in Trinayani. Both the shows have cultivated a huge fan following in a short span of time, owing to their fast-paced storylines and the palpable chemistry between the lead couples waiting to blossom into love. This week i.e. from 14th July – 17th July, viewers can look forward to some high-octane drama as the lives of the Sarasu – Rahul and Vishal – Nayani are going to change with this wedding. No.1 Kodalu will have villagers compelling Peddaya to marry Sarasu and Rahul, while leveraging an unfortunate incident. In Trinayani, audience will watch Vishal agreeing to tie the knot with Nayani as his father Jagadeesh Varma demands him to.
The wedding sequences were shot with only 30-40 crew members and the entire unit has taken utmost precautions by continuing to practice social distancing norms, wearing masks when not on camera, alongside maintaining high standards of sanitation on sets.
Will Rahul and Vishal wake up to realize Sarasu and Nayani's true worth and give them the love and affection they truly deserve? Stay tuned to No.1 Kodalu and Trinayani at 8:00-9:00 PM only on Zee Telugu and Zee Telugu HD.
As we welcome the new normal and further our entertainment proposition, we urge the audience to stay safe and continue enjoying their favorite shows at the comfort of their homes.
To enjoy the show, subscribe to Zee Telugu, available in the Zee Prime Pack at Rs. 20 per month
To ensure you do not miss out on your favorite Zee Telugu shows, choose the Zee Prime Pack that includes Zee Telugu, and Zee Cinemalu alongside 7 other top channels of the Zee Network that cater to the daily entertainment needs of your entire family at Rs. 20 per month only. For further information, contact your DTH or Cable operator.
About Zee Telugu:
Zee Telugu is the Telugu General Entertainment Channel of Zee Entertainment Enterprises Ltd (ZEEL). Launched on 18th May 2005, Zee Telugu was the first entrant from Zee bouquet to enter South India. Zee Telugu offers a variety of shows that cater to the entertainment preferences of over 75 million Telugu audiences across India every week. From fiction shows to reality shows and talk shows, the channel has multi-genre offerings and is widely accepted as the ultimate entertainment destination. Zee Telugu creates exceptional content by offering fiction shows with unique story-lines, state-of-the-art non-fiction shows & events with extraordinary formats, and acquires satellite right to some of the largest Tollywood movies that appeal to viewers across age groups.
With a balanced mix of content and programming options, Zee Telugu is one of top Telugu GEC channels in Andhra Pradesh and Telangana. Zee Telugu is well connected across all cable and digital platforms and also available on ZEE5.