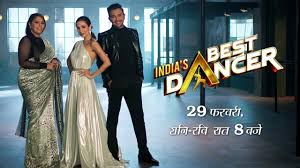 Everyone wants a space that helps them escape the mundane reality of their lives. In comes reality shows that not only entertain but take away the fatigue of a day's work. Indian families love to sit together and binge watch reality television. No wonder, the TRP ratings are over the top. This time around Sony TV is coming up with the first season of India's Best Dancer. The name itself carries so much weightage, the content will be all the more interesting. The show is all set to air on 29th February 2020 but before that we have all the scoop ready for you. Here's what you need to know about Sony TV's latest outing.




https://www.instagram.com/p/B81bn4UlKRs/
Mentors of Sony TV's India's Best Dancer
Earlier there was a spectacular dance show for the tiny tots names Super Dancer. Its success set bells ringing and the makers stepped into the bigger foray, a dance reality show for people aged between 15-30 years. This show will air over the weekends at 8PM which is prime television time. It will go on for a better chunk of the year and will prove to be a weekend aid as well. The show will air on February 29, 2020. There will be 12 chosen mentors from the dance world who will sculpt the contestants and shape them to their very best. The mentors are renowed names in the dance world and have proved themselves as choreographers time again. The channel hasn't revealed the entire list of names but as of now what is known is that we wil Tushar Shetty, Anuradha, Nach Baliye 9 choreographer Aishwarya Radhakrishnan , for the winning couple Prince Narula and Yuvika Chaudhary and Prash Utekar has been a mentor on Super Dance Chapter 3. The rest of the mentors will be revealed in a couple of days and we will be the first to inform you.
Judges and hosts of India's Best Dancer
No show is complete without strategic judges who will not only shred the contestants apart but also give them a taste of reality. India's Best Dancer will have a star studded judging panel in ace choreographer and judging queen Geeta Kapur, choreographer and contemporary dance guru Terence Lewis and the graceful and glamorous Malaika Arora. Adding to the humor element of the showing will be the queen of laughter Bharti Singh and by her side will be her better half Harsh Limbachiyaa.
https://www.instagram.com/p/B88pKv6K1bm/
Contestants of India's Best Dancer
The channel has been tight lipped about the chosen contestants but as per reports they have selected the cream of dancing and produced them onstage. In the auditions, the contestants were asked to show their three best moves in the span on 90 seconds. The contestant with the best moves were selected while the others were shown the door until next time. The list of contestants has not been completely revealed but we have come to know of four contestants; Rituja Janurkar, Shiraz, Pooja and Suraj. The rest of the contestant names will be revealed in a few days.