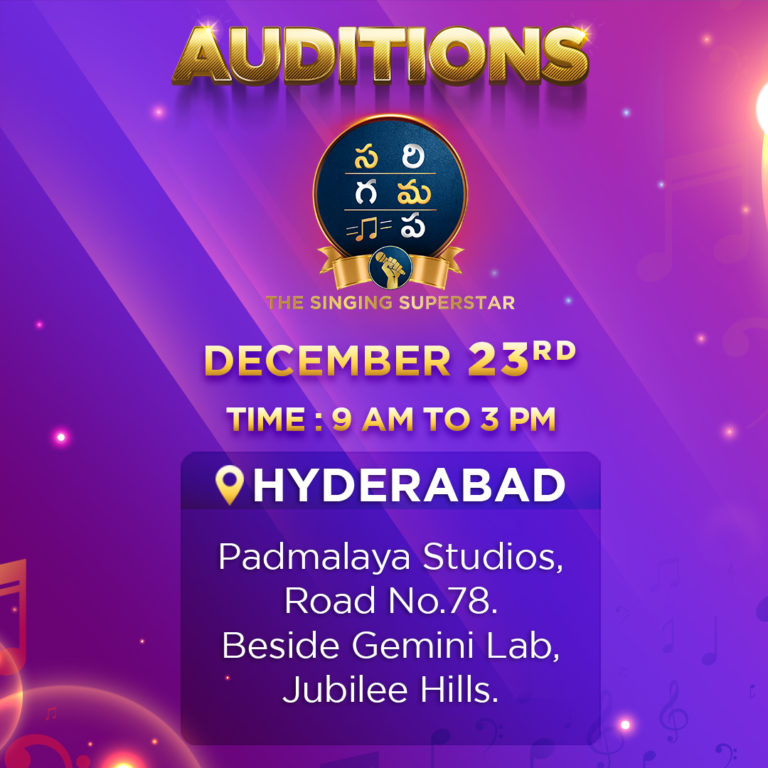 After receiving an overwhelming response for 'Sa Re Ga Pa Pa – The Singing Superstar' auditions across ten towns, Now it's time for Hyderabadis to showcase their singing talent. The most-loved singing reality show, which has given a platform for umpteen people across the Telugu states to display their talent and become musical sensations, is returning with fresh news for the Television audience. After enthralling everyone through 13 uniqueindividualers, the new season titled 'Sa Re Ga Ma Pa – The Singing Superstar' aims at taking the show to a whole new level as the channel showcases all the contestants' inspirational stories and produces the show on a massive scale.
To find the hidden musical gems across the Telugu states, the channel kickstarted the first leg of Vizianagaram and Khammam on 12th December, followed by auditions in Vizag, Nellore, Warangal, Rajahmundry, Tirupati, Karimnagar, Vijayawada, and Kurnool. The first leg of auditions across ten towns witnessed outstanding participation, with more than 2000 young, talented, and budding singers participating and hoping to be a part of the show. After recording such a mega turnout across all the towns, Zee Telugu continues its hunt for finding the next Singing Superstar as it hosts the auditions in Hyderabad on Tuesday, 23rd December 2021. Participants between the age of 16 – 35 years are eligible to take part in the auditions and try their hand at being a part of this mega reality show.
Hyderabad Auditions Venue Details and Time – Padmalaya Studios, Road No 78, Beside Gemini Labs, Jubilee Hills on 23rd December starting from 9:00 AM to 3:00 PM
So, if you aspire of becoming a musical sensation, here's the first step towards realizing that dream! Participate in the Hyderabad leg of auditions for 'Sa Re Ga Ma Pa – The Singing Superstar.'
About Zee Telugu:
Zee Telugu is the Telugu General Entertainment Channel of Zee Entertainment Enterprises Ltd (ZEEL). Launched on 18th May 2005, Zee Telugu was the first entrant from Zee bouquet to enter South India. Zee Telugu offers a variety of shows that cater to the entertainment preferences of over 75 million Telugu audiences across India every week. From fiction shows to reality shows and talk shows, the channel has multi-genre offerings and is widely accepted as the ultimate entertainment destination. Zee Telugu creates exceptional content by offering fiction shows with unique storylines, state-of-the-art non-fiction shows & events with extraordinary formats, and acquires satellite rights to some of the largest Tollywood movies that appeal to viewers across age groups.
With a balanced mix of content and programming options, Zee Telugu is one of the top Telugu GEC channels in Andhra Pradesh and Telangana. Zee Telugu is well connected across all cable and digital platforms and also available on ZEE5.