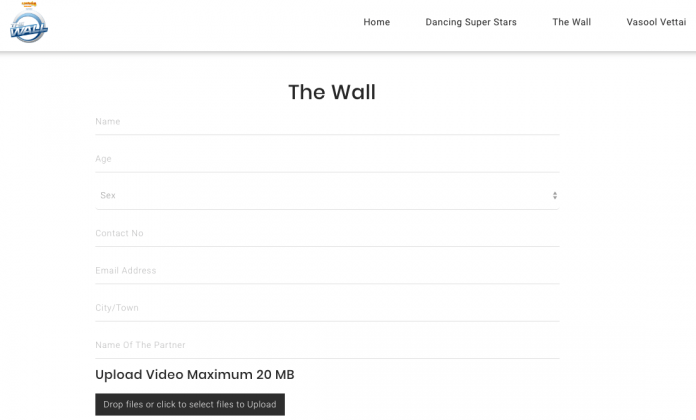 The Wall is a game show which will be aired in Vijay Tv from 2019 and it's based on the American game show with the same name. The Wall 2019 show will be hosted by Priyanka and Ma K PA Anand and Vijay TV has opened the registration for The Wall show audition. This game involves two people and you need a partner to play this game. The partner can be your husband or wife, a family member or your lover or your friend. Just make sure you and your partner are above 18 years of age.
Since many are not able to upload Video for registration Star Vijay has made an option for them to paste video link uploaded on youtube. Video is mandatory!! Super Singer Junior 7 Voting starts in few weeks, make sure to vote for your favourite SSJ7 contestant,
Update – Registration for wall is temporarily closed by Star Vijay Tv. We will update as soon as it opens again.
The Wall Game Prize Money – 2.5 Crores




The Wall Game Show Vijay Tv Rules
The Wall is played in teams of two.
The teams get the chance to answer questions and if they answer correctly, a green ball falls from the wall and the players add the value of the slot to their winning total.
If they answer incorrectly, a red ball falls and the value the ball lands on will be deducted from the total prize money
As the game progresses, one player will be sent into an isolation room and they have to play the remainder of the game without communication.
It sounds like it's going to be intense!
The Wall Game Vijay Tv Audition Registration Procedure
Go to this official registration url – https://vijay.startv.com/the-wall/
You have to fill in personal details, make sure to fill in the correct details for getting shortlisted
The details that needs to be filled are Name, Age, Sex, Contact No, Email Address, City / Town, Name of the Partner
You must upload a video or photo of you with your game partner, it must be less than 20mb.

Source – Vijay Tv
Disclaimer: TheNewsCrunch is not directly or indirectly associated with the show or Channel. We just provide auditions information based on respective sources.