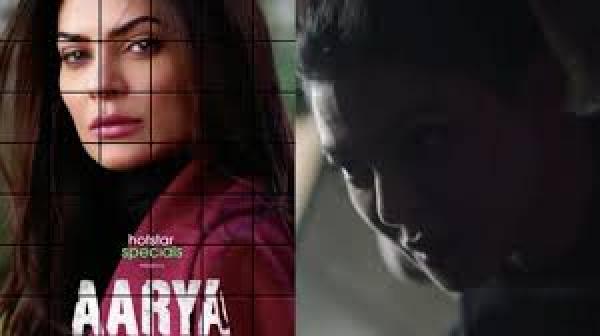 Sushmita Sen ruled the hearts of millions ever since she won the coveted Miss Universe title. But that was just the beginning for Sen, she went on to conquer Bollywood as well. Sushmita has always broken boundaries and what better example than her being a single mother to two beautiful girls. Sen makes her comeback to the screen with her new web series Aarya. Aarya is directed by Ram Madhvani. The web series was supposed to release in March but since the global pandemic everything came to a standstill.
Aarya will be streaming on Hotstar+Disney from June 19th onwards.
Aarya Web Series Trailer
The trailer of Aarya shows Sushmita Sen's character as a woman whose life circles around her family. What Aarya is unaware of is that her husband, played by Chandrachur Singh, deals in illegal medicines. Aarya doesn't know how to take this information and threatens to divorce her husband. But before the proceedings go through, he is shot dead.
Once the investigation is on full swing, Aarya realizes that her husband could have been a part of a much bigger plot, an international drug racket and the lives of her family is in danger. Aarya then takes it upon herself to protect her family and transforms herself. She picks up a gun and is all set to step into her husbands shoes.
Watch the trailer of Aarya here:
Aarya Web Series Plot
It is said that Aarya is based on the Dutch drama called Penoza by Peter Bart. Sushmita Sen will be seen in the role of a rugged, strong willed woman. Not much is revealed about the storyline but considering that it is an adaptation the plot will be loosely structured around the original. The series showcased the story of a wife who has to take over a crime business from her husband. The husband is killed in a brawl leaving the wife to fend for herself.
Aarya Web Series Cast
Sushmita Sen
Chandrachur Singh
Sikander Kher
Manish Choudhary
Namit Das
How to watch Aarya Web Series?
Aarya will be available on Hotstar+Disney. The rights of the show was given to the 0TT giant that has gained immense popularity ever since Special Ops became the most watched series across the country.
Follow the next few simple steps to watch Aarya:
Download Hotstar+Disney through Appstore or Playstore
Subscribe to Hotstar+Disney
Login into your account
Search for Aarya
Aarya Web Series Leaked Online by Tamilrockers?
Although technology brought along with it bucket loads of advantages there are a few issues that surpass the goodness. Every makers strives hard to create content that is unique and can entertain the audience. It is a huge blow when piracy overshadows the hardwork put into the content creation process.
In this case, Aarya marks the comeback of Sushmita Sen. She is immensely popular and has a huge fan base that is eagerly waiting to see her back onscreen. Aarya is thrilling and captivating which has kept the viewers with a bated breath.
The release of Aarya on Tamilrockers, the nations leading torrent site for series, movies and shows leaked the full movie prior to its release. Tamilrockers allows free download and streaming of shows. Modern day web series and online streaming platforms depend a lot on opening week traffic as a significant source of return on investment.
With the onset of Tamilrockers and other online web series streaming sites, makers and digital streaming partners face a haunting task of dealing with this situation in their hands. Also taking into consideration the current economic status of the country, it is only through web series that the industry will be able to make money.
However, Aarya is a Hotstar+Disney original and marks the comeback of actors who have a reputation preceding them. Another aspect that should be taken into consideration is that in such times many people have opted for subscription of OTT platforms for the sake of entertainment purposes. They will prefer to make use of the money spent rather than searching for a pirated mere 480P or 720P print version of the show.
Disclaimer: We at TheNewsCrunch condemn movie/ web series piracy and pledge for strengthening the anti-piracy laws across the globe and give due respect to the skills and talent of the actors and everyone involved in the digital entertainment industry. The Copyright Act, 1957 protects all type of music, songs, and videos, literary and artistic work. The Stop Online Piracy Act (STOP) is also one such act that restricts access to sites that host pirated content.