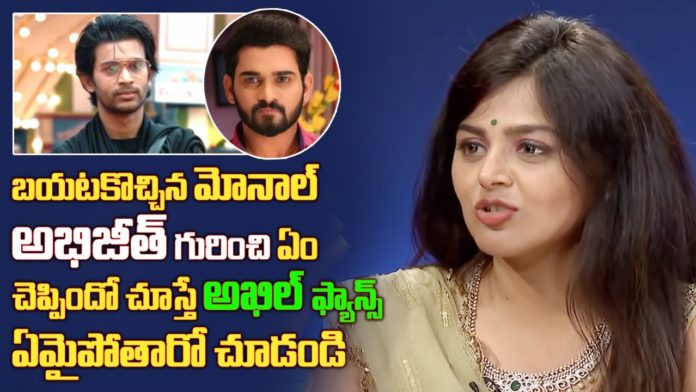 Bigg Boss Telugu season 4 has completed 14 weeks successfully, with five contestants entering this year's finale. The 15th week of Bigg Boss Telugu will be a tough one as the winner will decide who will get the maximum votes from fans. Fans can vote for their favorite contestants through Hotstar App or missed call numbers. Monal was the last person to get evicted from house. Monal was the most hated contestant in this season of Bigg Boss and many even believed that the organisers favoured her to stay inside the Bigg Boss house.
The love triangle between Monal, Abhijeet and Akhil was one of the most talked about topic in this season. After Monal's elimination Abhijeet, Akhil, Harika, Ariyana and Harika reached into Top 5 finalist race and one among them will win the title trophy on grand finale on December 20. While Akhil looked very disturbed after Monal's eviction, Abhijeet remained firm with no reaction from his side.
Akhil bid Monal farewell on stage with " Undiporaadhey" song and Monal asked Akhil to play well. She told Akhik to give a tough fight for the Bigg Boss title. Abhijeet also shared his side of story with Monal, asked for her forgiveness. While Akhil asked Monal to stay in Hyderabad Abhijeet told her about visiting her in her hometown, Gujarat.
Here's how Akhil and Abhijeet's fans reacted for Monal's eviction:
Final ga #Akhil ki kuda puvvu ichindi Narmada papa.. 😂😂😂 Nee Expressions entra #Karivepak 😂😂😂 #Abijeet #ariyanaglory #Harika #Sohel #Harika #AkhilSarthak #Monal #BiggBossTelugu4

— Charan Prasad (@charanprasad2) December 13, 2020
#BiggBossTelugu4 #Akhil and his overaction while #Monal going
Fake relationship from both sides

— ❤HONEST GIRL❤ (@BiggBossAddict) December 13, 2020
Bye monal
All the best #BiggBossTelugu4 #Monal #BiggBoss4Telugu pic.twitter.com/3TWba2AYp3

— MPBapineedu (@Bapineeduvarma) December 13, 2020
#Abhijeet you are rock clever ani anipisthundi.#Abhijeet Gujarat ochi ninnu kalustha ani cheppi undakapothe #AkhilSarthak #Monal ni kalusthanu ani cheppevadu kaademo anipisthundi.#Abhijeet competition lo lekapothe #AkhilSarthak #Monal ni eppudo lite teesukunevadu#BiggBossTelugu4

— Princess Usha🌞 (@PrincessUshaOfl) December 13, 2020
#Monal #Akhil ni #Harika tho vundamandi last week lo antay #Abijeeth ni ontarini chesi mental ga down Cheyyadani kaa?? #Gameplan #WorstIdea #BiggBoss4Telugu #BiggBossTelugu4 #KingOfHeartsAbijeet #VoteForAbijeetOnly #WeAdmireAbijeet

— Bharadvaj Vedula™ (@bjvdla) December 13, 2020
#Akhil sings " Undiporadhey " song in #BiggBossTelugu4 after #Monal elimination.

Apart from all the misunderstandings, Akhil's love towards monal is pure but she doesn't deserve such a genuine person like him.

TRUE FACT – AGREE – RETWEET pic.twitter.com/b3MtEUlP8P

— Vote For Akhil Sarthak (@akhilsarthak007) December 13, 2020