Ayudha Pooja is on 4th October 2022 Tuesday  and it's an important festival in Tamil Nadu. This day is also called "Astra Puja", which means "Worship of Instruments". This day is celebrated throughout Tamil Nadu for worshipping their profession. Offices are closed traditionally on this day. It is a part of Navratri festival which is traditionally celebrated in India. On this auspicious occation people worship goddessess Sakthi, Saraswati, Lakshmi and Parvathi with various equipment. This day is also celebrated as Saraswathi Pooja worshipping Goddess Saraswathi. It's celebrated on 9th Day of Dussera or Navarathiri. Here is how the festival is celebrated on different 8 parts of India.
It is celebrated in Tamil Nadu as Ayudha Pujai (Tamil: ஆயுத பூஜை),
It is celebrated in Telangana and Andhra Pradesh as Aayudha Pooja (Telugu: ఆయుధ పూజ)
It is celebrated in Kerala as Ayudha Puja (Malayalam: ആയുധ പൂജ)
It is celebrated in Odisha as Astra Puja (Odia: ଅସ୍ତ୍ର ପୂଜା) or "Ayudha Puja"
It is celebrated in Marathi as Shastra Puja (Marathi: आयुध पूजा/ खंडे नवमी)
It is celebrated in Maharashtra as Ayudha Puja/ Khande Navami"
It is celebrated in Karnataka as "Ayudha Puje" (Kannada: ಆಯುಧ ಪೂಜೆ).
Happy Ayudha Pooja / Saraswathi Pooja 2022 Wishes and Greetings for SMS, Whatsapp
God be with you all in the good work you do, warm wishes for long success.
May the divine grace of Godess be with you, Goddess Saraswati is the Light of hope and Peace, May Goddess Saraswati Bless you with Knowledge and Wisdom.
My Heartiest good wishes to All members of your family on the auspicious day of Saraswati Puja. May Lord Saraswati showers blessings. Happy Saraswati & Ayudha Puja.
On this special Day, As we Celebrate valor & courage, Triumph of good over evil, wish you success & happiness in Everything you do.Happy Ayudha Puja .
May Goddess Saraswati and Durga shower their blessings for your good health and prosperity. Let the Dasara/Dushhera festival brighten our minds with good thoughts Saraswati Pooja, Ayudha Pooja and Durga Pooja wishes to one and all.
On this auspicious occasion, let's connect our divine work force to serve our clients with highly focused and dedicated performance to brighten our bonding.
Happy Ayudha pooja 2022 Wishes in Tamil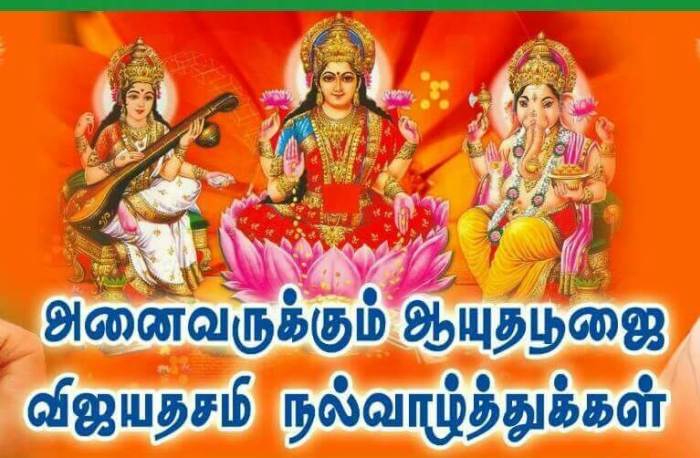 Happy Ayudha pooja 2022 Images Whatsapp