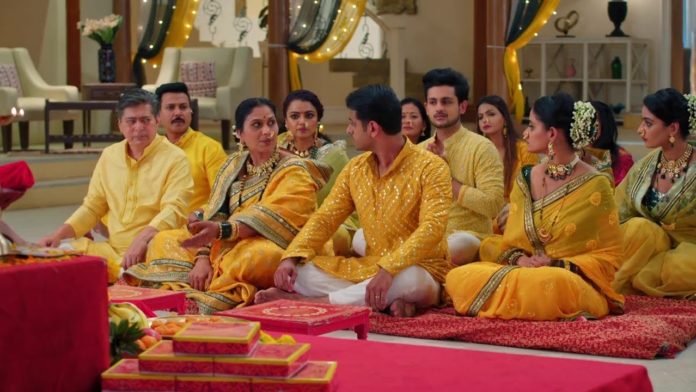 In Star Plus serial Gum Hai Kisi Ke Pyar Mein, viewers are getting to see something new. The family members say enough to put Sai in the Basant Panchami Puja. But Sai refuses, saying she has allergies. Even after knowing this, the family members do evil in front of Virat.
In the coming episode aired on Friday 29th January 2021, it will be shown that all the people of the house are sitting in the puja for worship. Meanwhile, Panditji asks for Rudrabhishek. Kaku takes Pakhi's name for this. But Virat's mother tells Virat and Sai to do Rudrabhishek. She says that this is the first worship of both of you, so it should be done by both of you. Kaku gets a little angry after seeing this.
Pakhi is quite irritated upon hearing this. After which, Virat and Sai do Rudrabhishek in worship. Kaku, on the other hand, gets angry inside after seeing both of them together. Here Virat's mother is happy to think that now all her wishes will be fulfilled. Even the mind is pleased.
At the same time, Virat asks Sai about her dance and says that he will definitely see her dance. Here again, Sai Devi seems to interfere in Tai's life, and no householder likes this. In the last episode, Virat's father tells him that you have only two ways. They say, either you take your wife out of the house or take it away from this house.
Till now, you have seen that after convincing Virat's mother, Sai starts to blaze. Along with this, the whole family comes in front of their makeup. After seeing this, Pakhi gets a little burnt, so Kaku says this is his new trick. Virat also keeps on seeing Sai like this.