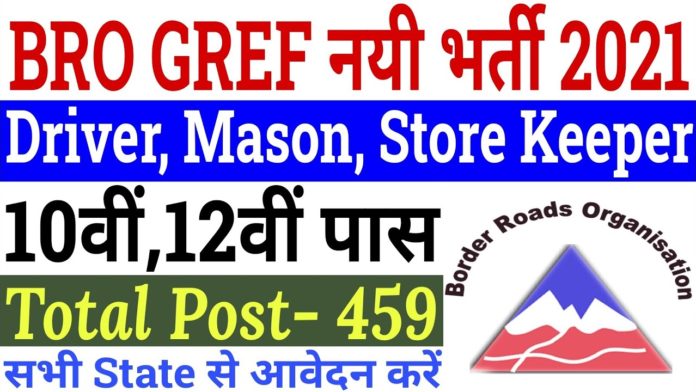 Ministry of Defense (Ministry of Defense) has issued a notification on its official website bro.gov.in. According to this notification, 459 posts of draftsman, supervisor store, radio mechanic, lab assistant, multi-skilled worker, and storekeeper technical will be filled. This post is only for male candidates. Eligible and interested male candidates can apply for the BRO GREF Recruitment 2021 in the prescribed format within 45 days of publication of this notification.
Vacancy Details
According to the notification issued by the Border Roads Organization (BRO), 43 posts of draftsman, 11 posts of supervisor store, 4 posts of radio mechanic, 01 posts of a lab assistant, 100 posts of multi-skilled worker (mason), multi-skilled worker (driver engine). 150 posts of Static) and 150 posts of Store Keeper Technical are vacant.
Pay Scale
As per 7th CPC, selected candidates on the post of draftsman will be given pay scales of Rs 29200 to Rs 92300. Candidates selected for the post of supervisor store will be given a pay scale of Rs 25500-81100 as per 7th CPC. Candidates selected for the post of Radio Mechanic will be given a pay scale of Rs. 25500-81100 as per 7th CPC. For detailed information on the pay scale, please see the official notification.
Educational Qualification
Draftsman- To apply for the post of draftsman, candidates should have passed 12th with a science subject from a recognized institute and should have two years certificate and other prescribed qualifications in a recognized institute or equivalent and Architecture or Draftsmanship.
Lab Assistant – To apply for Lab Assistant position, candidates should have a degree in a related subject from a recognized institution.
Multi Skilled Worker – To apply for the post of Multi Skilled Worker (Mason), one must have passed 10th from a recognized board or equivalent, plus candidates must have ITI from the relevant trade. For complete details of educational qualifications, check the candidate's official notification.
Age Range
To apply for Multi Skilled Worker' posts, candidates' age should be 18 to 25 years. For the other posts, the minimum age of candidates is 18 years, and the maximum age is 27 years. Relaxation in the age limit will be provided to reserved category candidates.