The good and bad teacher of the Bigg Boss Tamil house is none other than Vanitha Vijaykumar. Living a rollercoaster life, Vanitha has been the caprice for this season. Born on the 5th of October, 1980, she has delivered some great roles in various movies industries. Apart from movies, her personal and professional life is all spiced up and messy.
Career and Personal Life of Vanitha
Vanitha comes from a very elite house not only in terms of film background but also aspects such as politics. Her father, Vijaykumar is an actor as well as politicians. Vanitha's mother, Manjula Vijaykumar is also an actress who is well known for her brilliant performances. She has two younger sisters, Preetha and Sridevi. Apart from this, she has two step sisters and a brother from her father's first marriage.
Vanitha made her acting debut in 1995 with the movie Chandralekha. The movie received good and bad appreciation and as a result didn't perform well on the box office. She worked in a few movies till 1999. After that time, she just eloped somewhere and didn't do any show or movie until 2013. Finally, in the year 2015 she became the producer in one of her movies called MGR Sivaji Rajini Kamal. Currently, she is enjoying the Bigg Boss house. She is a really tough competitor who has the fire to win the title of winner.
Controversial Headlines on Vinitha
In the past there have been several instances in Vanitha's personal as well as profession life which has fixated media's eyes on her. The longing family feud between Vanitha and her father has been coming up again and again. In 2018, Vijaykumar filed a case against her in Maduravoyal's local police station for illegal acquisition of a house property. The 39 year old actress later revealed that along with her crew members, she was beaten and thrown out of the house.
In 2017 she was accused of kidnapping her own daughter. After the divorce from Rajan Anand, their daughter Jaynitha was supposed to stay in the custody of her father on weekdays and on weekends with her mother. In the first week of April she brought her daughter but didn't sent her back. After one week of keeping her away from Anand she finally revealed that Jaynitha was with her. She even refused to comply with the courts deadline and as a result lost the half custody of the child.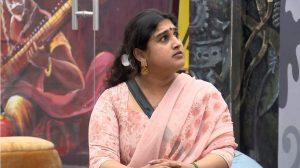 The Big Reveal
Vanitha is back into the house after being evicted. She is found roasting and asking spicy questions from various members of the house. Vanitha is one of the most hyped wild card entries for this season.Dominating the housemates, people do love her the bold and on-your-face nature. She has entered the house as a guest during a task.