Teresa Ruiz is a popular actress in Mexican cinema. She has featured in two seasons of Narcos: Mexico. Portraying the role of a Mexican drug dealer cartel leader, Isabella Bautista aka the Queen of Cocaine.
Teresa Ruiz's Birth and Age
Teresa was born on 21st December 1988. She is 31 years old.
Teresa Ruiz's Hometown
Teresa was born in Santiago Mazatlan, Oaxaca, Mexico.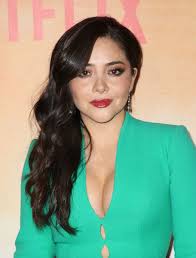 Teresa Ruiz's Family
Teresa belongs to the youngest generation Lopez Mateo family widely known in Southern Mexico for growing maguey plants.
Teresa Ruiz's Education
Teresa has studied method acting under the instruction of Martin Landau, Greta Seacat, and Sandra Seacat.
Teresa Ruiz's Instagram
Teresa's Instagram account is _teresaru. As of today, she has 245K followers.
https://www.instagram.com/_teresaru/?hl=en
Teresa Ruiz's Relationship Status
Teresa is not in a relationship as of now.
Teresa Ruiz's Net worth
Teresa's net worth is reportedly around $1.5Million.
Teresa Ruiz's Career
Teresa's debut film, Bienvenido Paisano was a resounding success. In 2006 she appeared in the film 'Bordertown' also starring Jennifer Lopez and Antonio Banderas.
In 2014 Teresa played the part of Veronica in the actors' studio production.
She made her musical theatre debut in 2006 play 'Carmen.'
Unknown Facts about Teresa Ruiz
Teresa is a founding member and up to 2013 was also the executive producer of the production company, 'Machete,' which won the Camera dór at the 63 Cannes Film Festival.
She is a lifetime member of the Actors Studio.
Teresa is trained under a residency scholarship at the Odin Teatret house of the International School of Theatre Anthropology.
She has won several awards such as Mayahuel de Plata, Prix dínterpretation feminine and India Catalina.