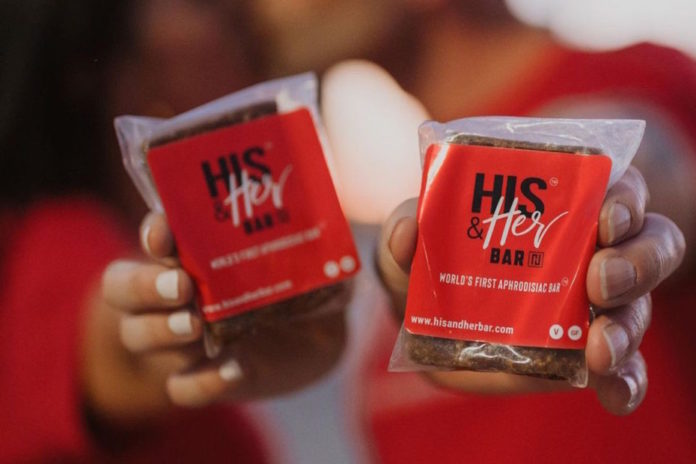 Back in 2019, Jennifer Gallangher swore to herself that she would create a product which would be used on a rather regular basis which would improve people's lives. She knew it would take time but she then discovered an aphrodisiac superfood which stimulates sexual desire while providing maximum nutritional benefits. Her husband, Michael not only supported her but also joined her.
His & Her Bar Founders and Story
Jennifer graduated with a degree in Marketing and Fashion Merchandising from University of South Carolina. She then became an entrepreneur. She started out working for others but realised that wasn't for her. She was good at what she did not very when she started out on her own.
Michael went from high school to serve in the navy. When he returned back to civilian life he opted to become a firefighter. He was always passionate about wine and this led to a job in Napa Valley. He even has his own Mr. Wine Guy Podcast where he interviews wine makers from across the world.
Jennifer and Michael research in-depth regarding aphrodisiacs for centuries to come. This was added to the category of superfoods. They ended up tasting countless combinations to find the perfect ingredients for their His and Her Bars. These ended up being delicious, vegan, gluten free and above all, natural.
His & Her Bar Ingredients
The His & Her Bar has an earthy and nutty flavour which comes from a mixture of almonds, cashews and maca. There is just the right amount of sweetness and a slight hint of cayenne involved as well. The contents of His & Her Bars contains organic dates, cashews, almonds, organic semisweet chocolate chips, organic maca, vanilla extract and a teeny-tiny bit of cayenne.
The ingredients are rich in nutrients and have all the right amounts infused together. The dates contain antioxidants and are rich in fibre. Cashews contain magnesium and Omega-3. The almonds are full of antioxidants as well along with vitamins E and B2.There is also chocolate which releases mood enhancing chemicals like serotonin. The Maca is rich in calcium, iron and zinc. Vanilla of course lowers stress levels. The cayenne contains capsaicin which increases metabolism.
The brand started off in the middle of a pandemic which wasn't the wisest decision when it comes to a business. Mainly because they were limited. They were unable to get samples across to consumers. They were also unable to provide any marketing events which would promote their product. Since markets were still closed they could not send it across to vendors. As of now, they are conducting business through their website and it sure is garnering great reviews.