Chicken Salt finds its origins in Adelaide, South Australia and goes way back to the 1970's. They were used earlier to add flavour to the chickens to give them an appetising colour once cooked. It is immensely famous in Australia although it took time to come to America. With the dawn of JADA Spices in America it brought about a whole new flavour revolution.
Chicken Salt All Founders and their Story
Khasha Touloei and Maynard Okereke, both originally from Australia, came to America to study at the University of Washington. As a result they became friends. Khasha wanted to be a dermatologist and Maynard was going to become a multi-hyphenate: engineer-entertainer-Dr. Hip Hop, a fun science guy encouraging kids into the science and tech fields. They both loved chicken salt while they were growing up and realised that it was not available in the US.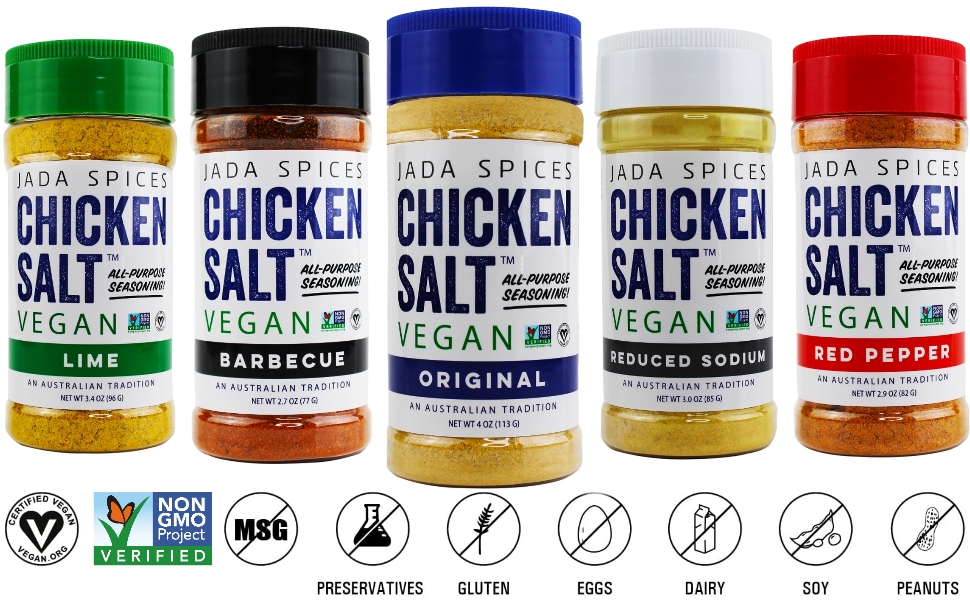 Khasha then ordered some from Australia. But when she saw the ingredients she was in for a rude shock. They were neither healthy nor vegan. Both Khasha and Maynard were vegan. Both were hell bent on recreating their favourite chicken salt which would be both healthy as well as vegan and thus founded JADA Spices, LLC.
Features of Spices Chicken Salt
Spices Chicken Salt does not have high sodium levels, MSG and any other form of unnatural ingredients. It is simple and has high-quality blend of unrefined sea salt, turmeric, spices, and garlic and onion powders. Moreover it is vegan! It does not possess any artificial flavours or colouring neither any sugar, eggs, dairy or soy.
Flavors of Chicken Salt
The original Chicken salt can be used to flavour soup, noodles, salads, mashed potatoes, quinoa, black beans, fajitas, and veggie burgers. It contains 50% less sodium. Barbecue chicken salt is smoky, sweet and would go well with ribs, brisket and baked beans Lime flavour gives you a tangy taste which adds a citrus flavouring to vegetables, corn on the cob and potato salad. Red pepper further adds a spicy flavour which can be added to chill and curry.