Lisa Baronoff is completely in love with her dogs, Toffee, a Cocker Spaniel, and Stir Fry, a Goldendoodle, and takes wonderful care of them. Her sole aim is to keep them happy, comfortable and safe. One day when she was walking them she realised that they were picking up all the dirt on their paws including germs and chemicals. These could harm them and they would get it back into the house. She knew that she needed a solution. Lisa had tried dog boots but it was a struggle to get them on the dogs paws. The boots were tight around the ankles and this restricted the movement of the dogs. They then fell off during the walk. She even experimented with dog wipes but they were messy and most brand, non-biodegradable.
Lisa thought of Walkee Paws which is the first leggings for dogs in the world. These leggings cover the dogs's entire legs and connects over their back to make sure that they do not come off. They are loose around the ankles and made out of stretchy rubber. These booties do not cause any hindrance in the way the dog walks normally. The dog parents also finds it easy to slip them on the paws and adjust the fit on their backs.
Lisa was bound to come up with such an idea fusing her love for dogs and that she is the daughter of a successful designer. Later, her professional life led her to working with Burhose Hosiery (now owned by Sarah Lee Baking Co.) in her native Johannesburg, South Africa, where she developed one of her ideas and launched a silky panty-stocking for them. After she moved to New York City, she managed the startup of a new Legwear Division of Tommy Hilfiger.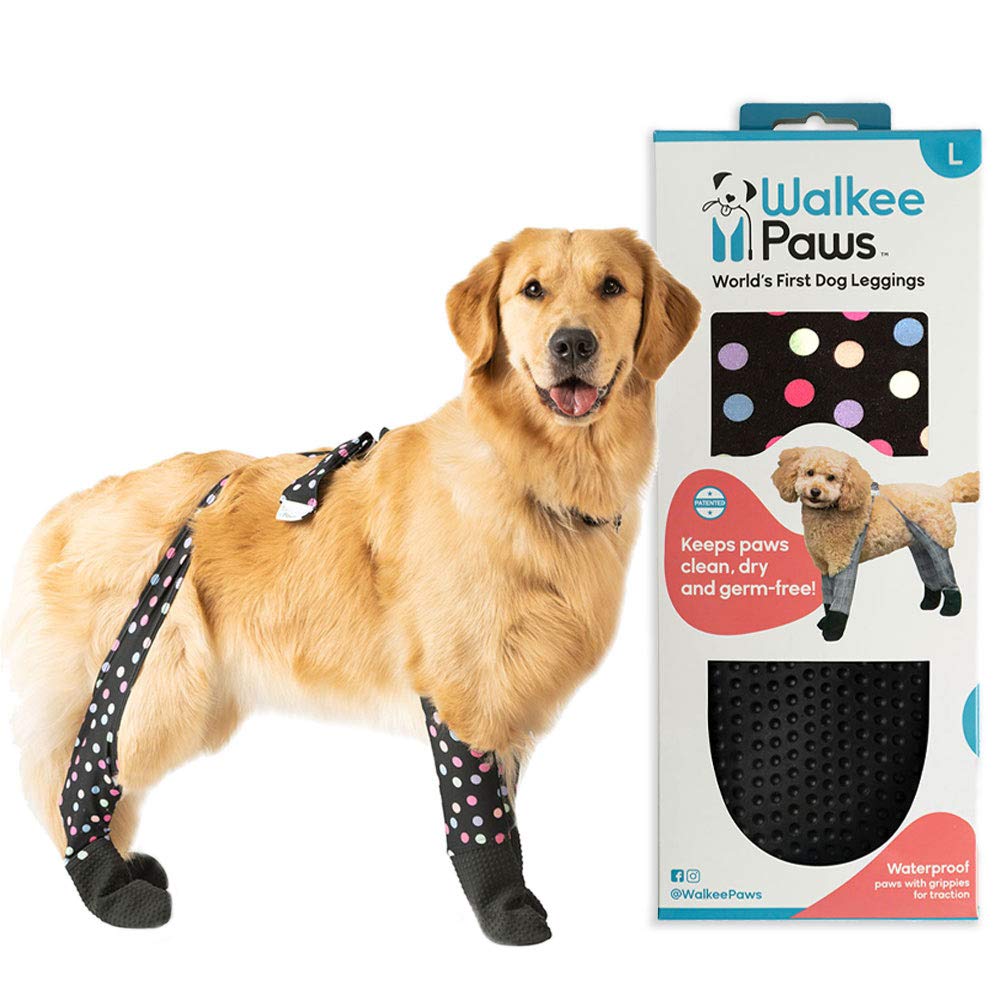 Lisa further on took two pairs of old pantyhose, she cut them into leggings and made Toffee wear them on his legs and he then tied them on his back. The pantyhose served two purposes as it acted like a sling-easy for her and it was comfortable for him. With that simple move, Walkee Paws came to life.
Lisa went on to form a team and together they created a super soft four way stretch fabric which would have a tightening tool that would fit the leggings to the dog as per their size. This will prevent further adjustments. These booties and waterproof and made from natural rubber. They are devoid of lead and dangerous phthalates. Dogs don't feel as though there is something on them and can feel the ground normally.
Grippies on the outside give the booties the traction they need on slippery surfaces i.e. wet or icy sidewalks. The gripes also keep older dogs steady on Woden floors and tiles. Lisa makes it a point that all the manufacturing is done in a factory which keep its safety standards high.
The material is lightweight and thin, water resistant and sturdy enough so that it can bear physical extremities such as water, snow and what comes about after outdoor walking. Walkee Paws are of easy maintenance. All that needs to be done is to rinse the rubber booties under cold water. Then they need to hang them out to dry. When the leggings get dirty, they need to be machine washed in cold water and then hung to dry indoors. They need to stay away from the sun, heat and fire.
Sizes of Walkee Paws Available
To attain the right size of your dog, all you have to do is measure the height of the dog from the floor, behind the front paw to the shoulder. From then measure the widest point of the front paw. There is a size guide available to suit your size.
Extra Small: Specially for a teacup breed, Chihuahua or Yorkie
Small: Catering to Mini Poodle, Westie or Shih Tzu
Medium: Mainly for Beagle, Cocker Spaniel or Sheltie
Large: Made to fit for a Golden Retriever, German Shepherd or Siberian Husky
Extra Large: Size is made for an Akita, Doberman Pinscher or Irish Setter
Not only that, Walkee Paws even has a feature wherein the cord stopper can be loosened to lengthen the leggings in case the puppy grows.